Cookbook Corner - It's All Easy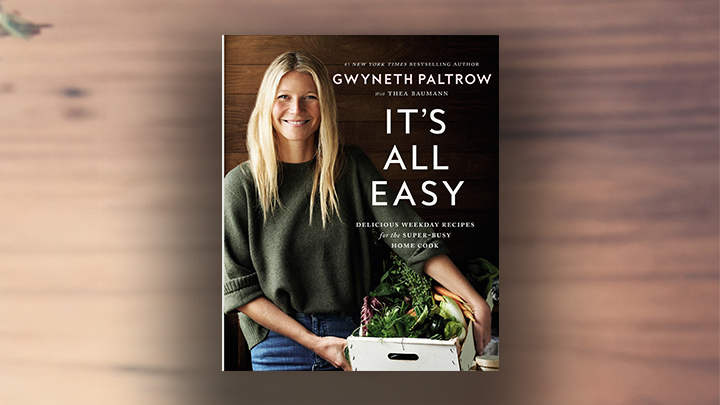 Actor Gwyneth Paltrow is on a mission in this beautifully produced, written and illustrated cookbook, It's All Easy. She introduces us to her busy lifestyle, where food needs to be as quick as a takeaway, but healthy and easy to prepare for herself and her children. She provides a comprehensive list of pantry essentials and sees the book as a 'road map' or a self-help book for the "chronically busy cook."
I found myself completely absorbed by the beautiful photographs of Gwenyth and her children. Mostly set in an environment of nature, they are moody in muted tones but are just lovely. There is a very urban, New York vibe to the pictures, and we are privy to Paltrow's beautiful home. However, by contrast, the photographs of the meals are bright and sumptuous, making you want to dash off to the kitchen to create your own culinary masterpiece.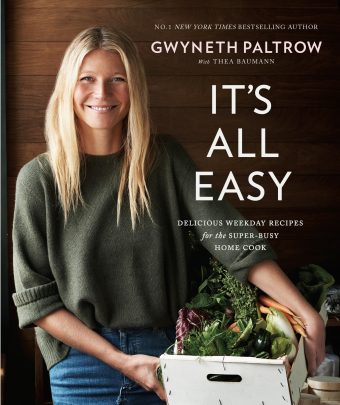 As I browsed through the book, I was delighted to discover that many of the recipes were 'doable' – that is, they were simple, had ingredients I can afford/find and were very much in line with my own food philosophy of simple and fresh. The breakfasts were gorgeous, and use a huge variety of ingredients. Most are vegan or gluten free, and she adds in cooking times and the amount of servings at the top of each recipe. I find this useful in a cookbook, where many people are dealing with food intolerances and allergies. There is a stunning Acai bowl (which is simpler than it sounds) crepes, granola, parfaits, oats and even some traditional egg and bacon recipes. I felt quite hungry just reading them.
The reader is then provided with a selection of 'on the go' recipes which are healthy and easy to prepare and to transport with you even on your busiest  day. There are salads, wraps, noodle pots (which I'm dying to try) and more. She follows up with 'pick me ups', simple but nourishing snacks for the whole family. Yum. There is one for bacon and avocado on toast which looks so enticing.
'In a pinch' deals with quick throw together meals which rely on pantry staples for when you're in a hurry or just too tired to give cooking much thought. Again, more great recipes. Soups and sandwiches which look delicious. 'Cozy evenings' and 'summer nights' are both bursting with inspiring and easy recipes which are quick and nourishing. Roasted cauliflower with curry and lime sounds wonderful and is just one of the selection on display.
Ad. Article continues below.
Gwyneth also provides a great selection of more complex dishes for entertaining, and I love the descriptions which would help for those guests who always grace every dinner party with their 'I can't eat gluten' or other less than helpful comments. And of course, there is a section close to my heart, of 'something sweet' – a beautiful collection of recipes for when veggies will just not do it and you need something with a bit of sweetness to satisfy your sweet tooth. The book concludes with a wonderfully easy to find index, and also a collection of recipes called 'the basics,' where the cook can find sauces and dressings all in one place.
The avid cookbook reader will love this recipe book, and if you are on the gluten-free, vegan or vegetarian journey, it will provide some delicious and easily prepared menus which are often hard to find for the average cook. But it is also suitable for any cook who wants to provide tasty and interesting food for their family or their guests.
I thoroughly enjoyed dipping into this gorgeous book and peeking into the Gwyneth Paltrow world. Although I realise they are probably a little airbrushed for publication, the photographs themselves are just gorgeous and help to create an appetite for her wonderful recipes.
And thank you to Hachette for my gorgeous review copy which will have pride of place on my cookbook shelf.
It's All Easy, by Gwyneth Paltrow with Thea Baumann, published by Hachette Australia is available from Dymocks.
Ad. Article continues below.

Join Books at 60 on Facebook, or sign up for our weekly newsletter below for more great reading recommendations!