Cookbook Corner: A beautiful collection for anyone who takes their seafood seriously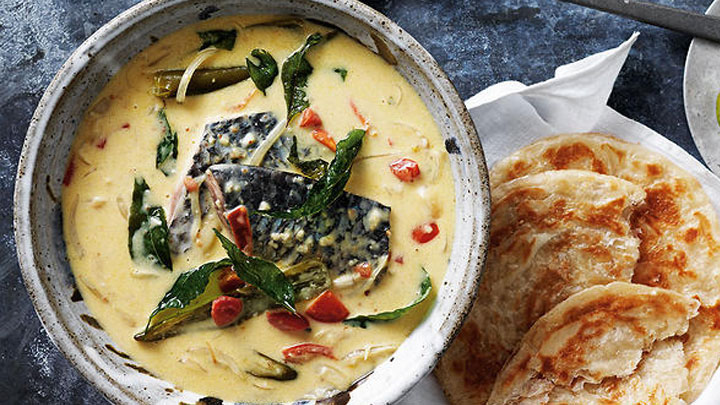 Wow! Was my initial reaction as I opened this "tome".  My first response of wow was appropriate as I flicked through several pages. My mind went off to wonder about the authors as their information was so detailed and presentation superb. I skipped to the last two pages to find out 'About the Authors' and this too was a revelation.
As I see it, Australian Fish & Seafood Cookbook by Susman, Huckstep, Swan and Hodges is a book for a loving couple –  one who loves to prepare, serve and consume delicious seafood, the other a devout fisherman. It is a book for anyone who loves seafood.
The beginning addresses catching and handling methods; sustainability, selection and storage. From here we turn to a logical sequence of every fish from Australian waters, from A to Z. This is where every fisherman ( or fisherwoman), can gain so much knowledge. A beautiful full-size illustration on each left page is balanced with the page beside of absolutely everything you need to know about the species in general; seasonality, catching method, common length and weight, identifiable features and sustainability.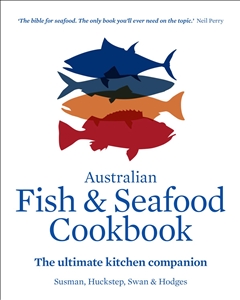 Turn the glossy page and find how the seafood 'behaves' in the kitchen from general information (some relevant to the 'catcher') to cooking methods, texture, aroma, flavour, appearance, yield and substitutes suitable for the species. The latter to me is just so important. So often I have needed to purchase what is available commercially and not known an appropriate alternative.
Ad. Article continues below.
However, I would suggest that the volume is too precious and too large to carry to the fish market, supermarket or even out with the devout fisherman.
Turn another page and we find a recipe or two, again with a full page sized and appealing photo of the served recipe. I love the detailed information that includes precise instructions including the best cooking vessel and additional notes which are pearls of wisdom.
Two-thirds of the way through and I feel excitement….. another section; "Shellfish A-Z Guide & Recipes. This is also presented consistently in the same logical format as the first section. I drool my way through every page and start placing book markers in anticipation.
Now comes the chapter where I want to involve the fisherman. The scaling, cleaning, filleting or dressing a whole fish. Sashimi, curing, shucking, dealing with live shellfish and any additional fact you need to know is here.
But wait, there is more! What about all those sauces, stocks and accompaniments which are "the ideal pairing to beautifully cooked fish and seafood." It is all here!
Ad. Article continues below.
The finale, of course, is a thorough index.
Worthy of special mention is the selected recipes with a mix of the traditional, traditional with a contemporary twist and a lovely blend of Asian, particularly Japanese.
Yes, we can go to the internet and trawl through so many sites which could take hours and still leave you wondering. This fabulous book is a far superior alternative has it all. Just looking at the volume is motivation to open it.
Australian Fish & Seafood Cookbook by Susman, Huckstep, Swan and Hodges is available now from Dymocks. Click here to learn more.