Calling all crime thriller fans: Peter James' latest is a must-read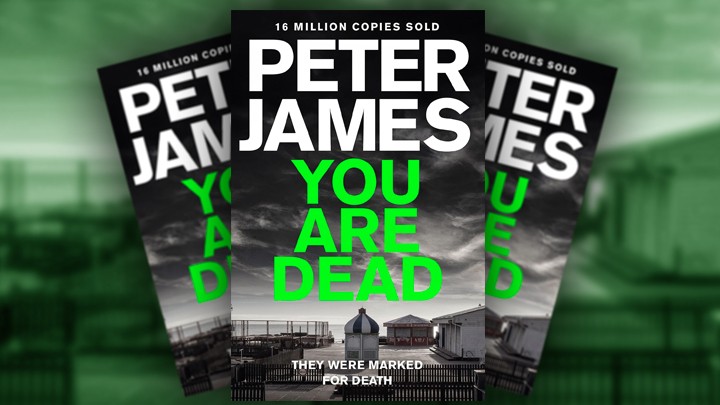 This is another novel in the Roy Grace series and it moves along at a cracking pace with many possible suspects to the most appalling murders.
You Are Dead begins with a phone call to Jamie Ball from his fiancée, Logan Somerville who sounds terrified. She has just driven into the underground carpark underneath their flat and a suspicious looking individual appears to be following her. The next thing Jamie hears is Logan screaming and her phone cuts out. Jamie immediately calls the police who attend the scene within minutes, only to find her car parked with the mobile phone inside and no sign of Logan anywhere.  Initially, suspicion falls on Jamie, but once he is ruled out Roy Grace and his team have a conundrum on their hands. Who would abduct Logan and why?
That same afternoon, workmen in another part of the city uncover the remains of a young woman who has been dead for 30 years. To begin with, these two events do not appear to be related, but then another woman in Brighton is abducted and yet another body from the past is found. Gradually, Roy Grace finds threads linking these events and is convinced that they have a serial killer on their hands.
In the meantime, a GP, Dr Edward Crisp, refers a patient, Harrison Hunter to psychiatrist Dr Van Dam for anxiety, frequent panic attacks and delusional tendencies.  At their first appointment Harrison Hunter tells Dr Van Dam he is an anaesthetist and enjoys killing people.  Also, he has information pertaining to the disappearance of Logan Somerville and he may be able to save her life.  However, he warns Dr Van Dam not to go to the police as he will no longer consider helping to save her life.
Ad. Article continues below.
The killer makes another attempted abduction and, in so doing, makes a subtle mistake which assists the police with their investigation and ultimately brings about his demise.
How long will it take you, the reader, to spot the killer?
This was a hard book to put down, with many twists and turns and a great story line, well told in Peter Jame's usual style.
You are Dead by Peter Jamesclick here to purchase from