Gardens as destination spaces is the new landscaping movement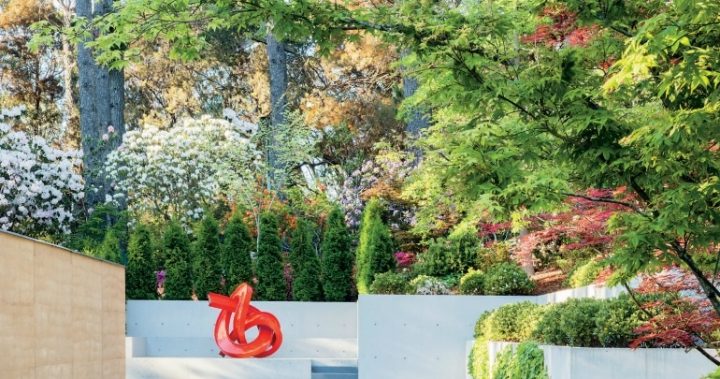 Open the hardcover of The New Australian Garden: Landscapes for Living, by Michael Bates and your eye is besieged with the simplicity of ferns and their new coloured growth.
Space leads the eye to want to see around a corner. Instead, we turn the page to a taste of the skilled photography by Jason Busch. For once I did not flip through the pages to have a peek and gain an impression. Instead, I read the first chapter "Defining the New Australian Garden". Again, a beautifully well balanced double page photo.
Michael Bates is more than a landscape architect/planner. He is a talented writer and his words are fascinating, reflecting his experience and knowledge. Any keen 'maker' of gardens can identify with so many points. For example, he admits (in referring to his learning process), to planting trees that were too big for the space. I for one have been guilty of this and not just once.
Michael gives a quick summary of garden styles; cottage, tropical, Bali and resort, formal, minimalistic, water, natural, biological pools, Mediterranean and, of course, the influence of sculpture, Spain and the Dutch.
I loved his referral to landscaping as a process and his mantra of collaboration with the client. He has planned and constructed over one thousand gardens over twenty years. I love his passion and approach that is reflected in phrases like; "the glory of garden making; garden making is a religion and, it's a civilising, earth changing powerful force for good in the world".
Ad. Article continues below.
In the next chapter titled "The Education of a Gardener", we learn a little more about Michael and he gives recognition to the factors that influenced him, for example, his father, special books, the British tradition, American aesthetics and a Japanese perspective that built on his training under Masayoshi Uchiyama. He writes, " the instruction of a Japanese master taught me wabi-sabi – the Japanese art of celebrating imperfection". Very encouraging for most of us.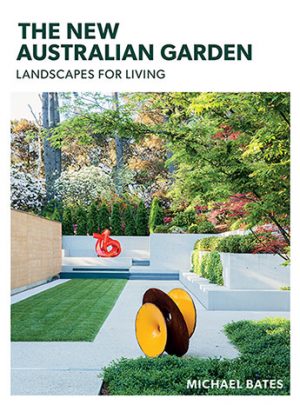 Eighteen chapters follow. All spectacular and reflecting so many vastly different styles and all designed by diverse landscape designers in collaboration with architects. All are treated so individually according to the environment, the site, style, architecture and always with the clients' needs incorporated. The mention of "architect" (I tend to think of the dollar sign straight off), should not deter the purchase of this book as a guide. Each chapter includes inspirational photos, a plan of the whole space (house and garden) and a comprehensive plant list. Valuable information is also to be gained from the "conversation with the designer" at the very end of each chapter.
I have to admit to loving some chapters just a little more than others (for example, Red Garden, "a living, breathing, sculptural piece of art; Ballast Point, a garden by a harbour-side park and Pirramimma, the latest chapter in an ongoing evolution." (Also featured on the cover.) All the gardens tell their own story, all have a wonderful feeling of harmony, coherence, ambience and atmosphere.
A wealth of inspiration for any garden lover to garner information from and to transfer to their own patch of paradise called home. It is all about the process, "exhilarating at each step". The grand finale of this 290 page tome is a gem entitled "Dirty Work". Just a few words and as in keeping with its quality, 'dirty' but clean photos.
The New Australian Garden: Landscapes for Living, by Michael Bates is available from, and published by, Murdoch Books.