Big Things – a taste of nostalgia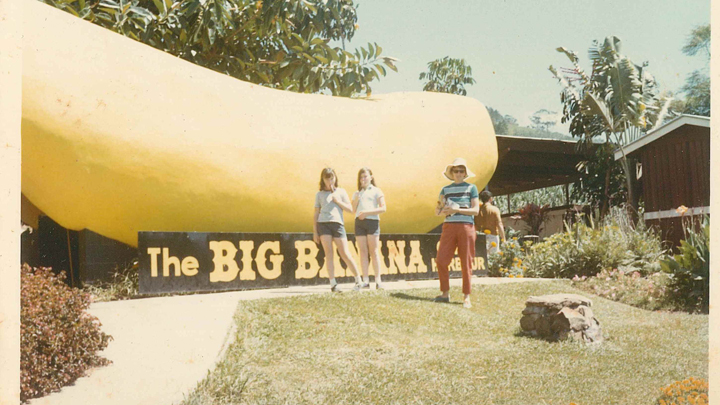 Today we have pleasure of publishing a blog by author, Lisa Walker, who looks at the Australian adoption of The Big Thing, such as the Big Scotsman, Banana, Prawn and Pelican, to name just a few. Lisa shares a nostalgic look at Big Things with Starts at 60.
In my book, Arkie's Pilgrimage to the Next Big Thing, my protagonist Arkie and her friend Haruko are sometimes bemused and sometimes captivated by the Big Things they encounter on their journey. While they agree that some Big Things are better than others, it turns out that even the most lacklustre have their attractions. The Big Pelican has eyelashes to die for and a rather flirtatious look about it and inside The Big Shell, Arkie can hear the roar of distant seas. The Big Prawn is rather intimidating. A twenty-five metre prawn would be enough to make me flee the water forever, Arkie reflects.
While Big Things first started in America it is probably safe to say that no other country has embraced them with quite the gusto of Australia. Big Things were originally conceived of as extra-large agricultural products, designed to show travellers how country folk live. They were, in effect, farming theme parks. But that original intention later expanded to embrace practically anything that could be reproduced in a super-sized form.
Big things kicked off in Australia in the 60s with the Big Scotsman, The Big Banana, the Big Stubby and the Big Staircase. While some folks were sporting Afros and peace symbols, eating pork with prunes and carrying flowers, others were busy building Big Things.
The 70s was the decade of pet rocks, hot pants, pineapple cheese balls, curly perms and platform shoes. It also brought us the Big Captain Cook, the Big Crab, the Big Macadamia Nut, the Big Pineapple, the Big Penguin, the Big Mower and the Big Cow. Quirky times.
Ad. Article continues below.
Some will remember the 80s as being all about pedal pushers, Rubik's Cube, prawn and avocado cocktail, big hair and acid-wash jeans. But, more importantly, this decade also brought us nineteen big things including the Big Bulls, the Big Mandarin, the Big Avocado and the Big Chook. It's a wonder people got anything done at all in the 80s with all those Big Things to build.
To me there is something quite surrealistic about Big Things. They raise questions such as, why would you build a Big Cow? Or a Big Prawn for that matter? I suspect that the answer is, Why not?
As Arkie says, they are an opportunity to reflect, Magnified to many times its normal size, a cow forces me to consider the essence of 'cowness'. Cows of course are sacred to Hindus and are often revered as a symbol of wealth and abundance in other religions too. Is building a Big Cow therefore a subconscious effort to call forth good fortune?
Even if you don't believe, like Arkie, that Big Things are deeply meaningful, you may still think, as I do, that there is something weird and sweet about them. I don't know about you, but somehow they always make me smile.
Ad. Article continues below.
Arkie's Pilgrimage to the Next Big Thing by Lisa Walker
Available for $26.40 via Booktopia
*******
Sunday, in Reading Readit's blog, Karen reviews Lisa's new novel Arkies Pilgrimage to the Next Big Thing.
Ad. Article continues below.
(Photo credit: From her family album, Lisa with her sister and Mum at the Big Banana in 1972.)
Which of Australia's Big Things have you visited? What do you think; are they deep and meaningful or just a bit of fun? Tell us your favourite Big Thing.