Ava fell in love the night the Nazi first showed their true nature to the world ...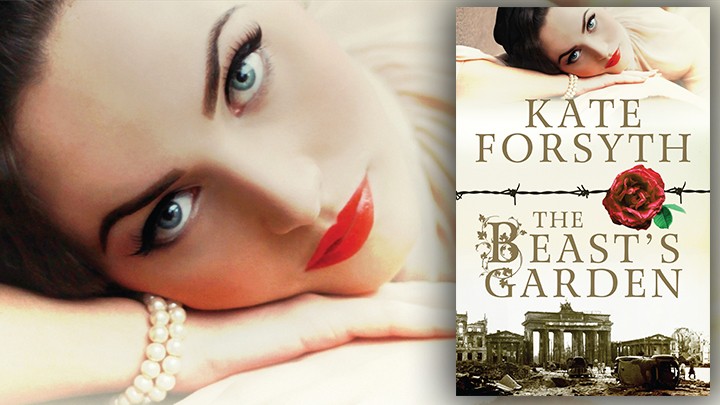 A retelling of the Grimms' Beauty and The Beast, set in Nazi Germany, The Beast's Garden by Kate Forsyth is a love story set against the background of war.
It's August 1939 in Germany, and Ava's world is in turmoil. To save her father, she must marry a young Nazi officer, Leo von Löwenstein, who works for Hitler's spy chief in Berlin. However, she hates and fears the brutal Nazi regime, and finds herself compelled to stand against it.
Ava joins an underground resistance movement that seeks to help victims survive the horrors of the German war machine. But she must live a double life, hiding her true feelings from her husband, even as she falls in love with him.
Gradually she comes to realise that Leo is part of a dangerous conspiracy to assassinate Hitler. As Berlin is bombed into ruins, the Gestapo ruthlessly hunt down all resistance and Ava finds herself living hand-to-mouth in the rubble of the shell-shocked city. Both her life and Leo's hang in the balance.
Filled with danger, intrigue and romance, The Beast's Garden, is a beautiful, compelling love story set in a time when the world seemed on the brink of collapse.
Ad. Article continues below.
Starts at Sixty Reviewer John Reid read this novel made the following remarks: "I've read a lot about World War Two over the years, both factual and fictional, and must admit a resolute attraction to it. When I was first offered Kate Forsyth's book, "The Beast's Garden" for review, I wondered how well the recreation of the Grimm Brothers' 1884 story, "The Singing, Springing Lark" (itself based on the 18th century French fairy tale, "Beauty And The Beast"), would work, especially in relation to the story's setting in wartime Berlin. I must say it works well.
There are numerous ways of adapting the basic tale to a scenario that suits the individual writer's needs. Kate chose for her setting the evil of Nazi Germany in the late 1930s, through to the end of the war. Her overall mixture of good and bad and the way she assembled her characters and her tale – the amount of research on which she embarked is patently obvious."
The Beast's Garden, by Kate Forsyth, is available to purchase from Dymocks.