An intimate portrait of one family and their sacrifice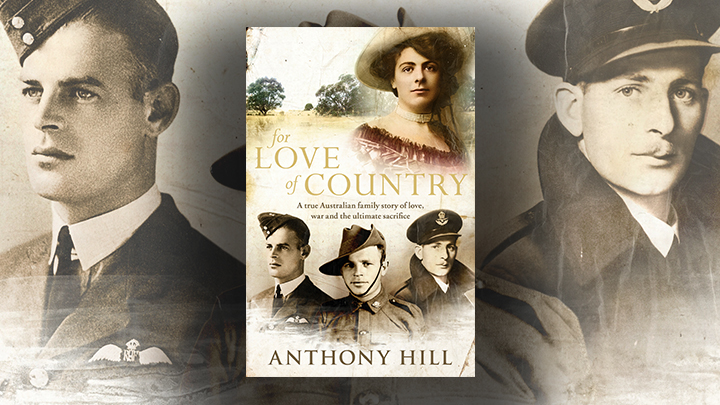 Gas!
Was it tear gas, was it phosgene, was it mustard? The alarm had been raised. He donned the box respirator, setting it securely, as instructed and as trained. And yet the gas got in. The army said "very few" ever showed leakage in testing, but he got one of those that did. It was mustard gas. As breathing became more difficult and he coughed up mucus, the need to tear the mask off became ever greater but, when he tried, he was restrained by the hands of medical orderlies.
"No, sir! I wouldn't do that if I was you, sir!"
"Leave me alone!"
"Not on your life, sir!"
Ad. Article continues below.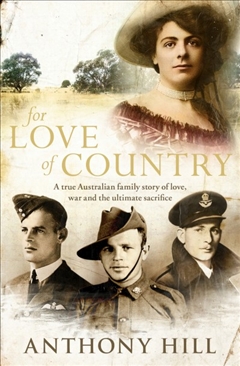 For Love Of Country, by Anthony Hill, is the hugely entertaining story of Captain Walter Herbert Eddison, 'Bertie' as he was known within the family. Returned to Blighty from Villers-Bretonneux to England, he saw out the balance of World War I and was repatriated to Australia where he and his wife would raise their family.
In time, following in paternal footsteps, three sons went overseas – for love of country – to give service in the World War II.
This is more than the story of one family. It is an historic work that parallels the development of Canberra as the national capital, recounts tales about soldier settlement, farm development, bureaucracy, rent paid at 6/3 an acre (I won't explain that, everyone over-60 will understand) and how people struggled through the Great Depression. It is a word picture about Australia's evolution in the 20th century, drawn principally from the Eddison family and those about them. At times, it is able to provide a poke in the eye to bureaucratic bungling… but it tells, too, of the most appalling tragedy any family might ever bear.
Walter Eddison came from a well-to-do English industrial family but, like his father before him, did not possess the best business head. Married, needing the means to support a young wife, Marion, and growing family, Walter departed England for New South Wales, leaving his dependents behind while he sought, literally, greener pastures. War was declared while the ship steamed its way to Australia where, with only momentary hesitation, he joined up, finding himself sent to Egypt, then Gallipoli and, finally, France.
Following convalescence in England, Walter was due for repatriation to Australia (because it's where he enlisted), once again leaving his family behind. However, he convinced authorities of the sense in allowing his emigrating family to sail with him to Australia. They were able to depart together.
Ad. Article continues below.
Life in Australia was hard. As a returned serviceman, Walter, or Captain Eddy as many knew him, was granted soldier settlement acreage close by the planned and slowly emerging national capital, Canberra. Property ownership and development were forever a battle, mostly due to the difficulty in understanding the country and climate, establishing suitable farming practices (for example, whether best to crop, graze, milk or plant fruit trees), and making enough to pay the rent due the government, for the land was leasehold, not freehold. He and Marion, with an ever growing family, had their battles even to the extent of Walter droving for other settlers to eke out their existence. He was a hard worker, always prepared to take on whatever needed to be done, but forever mindful of how far he could push his gas damaged lungs.
Through the 1930s, Europe was simmering into ever greater tension. During their discussions at home, "…for Walter and Marion, it seemed inconceivable that 'the war to end all wars' had been an illusion". World War II came about and, barely two decades on, their sons headed off to fight as their father had before them.
For Love Of Country is compelling. It is well researched and written, with much information coming from Eddison family archives, including photographs and official papers of the time. It is an engaging look at our history, providing detail, some of which we may have heard before, but given a more subjective reality by looking at events through the eyes of one particular family.
The reader almost feels he knows the family personally.
Highly recommended for those interested in our history, book clubs, public libraries, secondary school libraries and for anyone seeking a good, entertaining read.
Ad. Article continues below.
For Love Of Country, by Anthony Hill is available from Dymocks.

Join Books at 60 on Facebook, or sign up for our weekly newsletter below for more great reading recommendations!