Amazing garden landscapes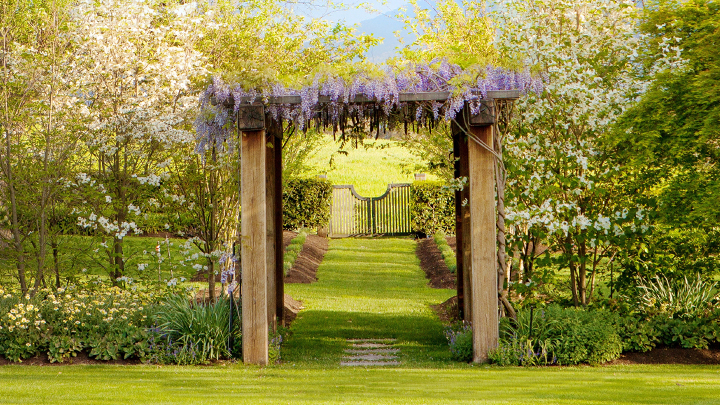 This is Paul Bangay's eighth volume and, if you're into gardens and looking for a coffee table book, this may well fit the bill.  In case you're not familiar, Paul is a high profile landscape artist whose advice is sought not only in Australia but in many overseas countries as well (America and N.Z. get a gig in this book).
Paul Bangay's Country Gardens is a heavy tome and comes with that sweet smell that large photographic books possess and make you want to flick through them immediately.  You won't be disappointed and Simon Griffiths' photography enhances the script beautifully.
Paul's script is easy to read and factual, explaining what the garden used to be like and how he wrought changes to the landscape.  It helps a great deal that the people who invariably employ him are not short in the money department, but you'd expect that anyway.
His anecdotal interludes of how he has grown in knowledge and outlook as an artist (I hesitate to use the word "gardener", it seems inadequate) are also informative.  "As a designer, boredom is my greatest enemy; the seasonal changes that satisfy a lot of gardeners are not enough for me – I crave more exciting changes and additions to the garden."  That, for me, sums up what you're going to get in this book; creativity in different directions and in varying situations.
Ad. Article continues below.
I guess I was expecting something a little different and was initially looking for gardens in, say, the Blue Mountains, Southern Highlands or the Dandenongs somewhere in the book but that's not what it's about.  No, it is singularly a reference to work that Paul has done and it certainly covers a large area, not only where he's been, but also the vastness of some the plantings themselves.  
There are all sorts of patterns, from the simplistic but grandiose one at Margaret River to the totally exotic Mount Algidus in New Zealand and the no-expense-spared acreage at the Hamptons in the U.S.A.  It's in the latter types that the importance of architecture and roadways comes into play more than ever with his overall layouts.
Another important aspect of Paul's work is his continued rapport with his customers, something that seems to come up in every chapter and helps drive his work to even greater heights.  Woodlands is something that has continued to escalate in importance in his work for instance and water, especially as in pools, crops up frequently and beautifully.
If I had one, ever so slight, criticism of the book, it's that I felt some of the photography was a little washed out and suffered from too little time at the venue.  I also queried the use of some of the pictures, thinking they were given more space than was deserved but, hey, that's just my opinion.  The beguiling cover shot with a mixture of high cloud and blue sky in the background above a wisteria covered entry was something I wanted to see a lot more of.
Paul Bangay's Country Gardens is available now from Dymocks. Click here to learn more.