The deadly secrets of a small South Australian mining town
This hauntingly beautiful story is set in the South Australian opal mining fields in the small town of Mululuk. 
Cassandra Austin, the author of All Fall Down, grew up in outback NSW and writes evocatively of the heat, isolation, the pervading dust, and most of all, the secrets of a small town and its people.
Janice is driving on the long, narrow steel bridge which connects the two halves of the town, when the bridge mysteriously collapses, leaving Janice close to death. As she recovers in hospital a new bridge is built. But due to safety concerns, the new bridge is unable to be used, leaving the town cleaved in two and even further from civilisation.
Janice, Shane and Craig are involved in a love triangle, which comes to a head with deadly consequences involving the new bridge. Young Rachel is visiting her Uncle Frank, or Father Nott as he is known to the townspeople.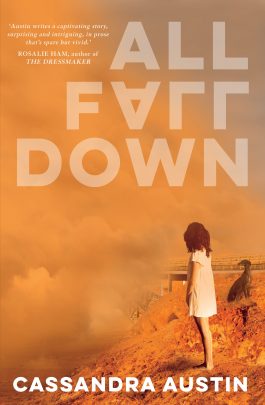 Ad. Article continues below.
Rachel unwittingly becomes involved as she develops a teenage crush on Shane. Charlie, an ageing alcoholic, has his own extreme views on how to ensure the new bridge is safe. Why does he carry large, sharp knife and talk of a sacrifice? And why does the insurance investigator lurk in Janice's hospital room?
The bridge is not the only thing that is fractured in Mululuk. What will it take to get to the other side?
The book does have one plot flaw I had trouble reconciling. A new steel bridge, complete with bitumen and lights is completed in 4 weeks, just a bit impossible. No to mention that it was built prior to an investigation as to why the previous (and only 1-year-old) bridge collapsed.
All Fall Down recreates the Australian outback in all its beauty… and dangers. I enjoyed this book, Austin writes well, and her descriptions of both setting and people are both vivid and disturbing. I recommend this be read on a cool, wet day to escape the heat and dust that seems to swirl around as you read it.
But do read it!
All Fall Down by Cassandra Austin is released on 30 January 2017 and is available to pre-order from Dymocks. Click here to learn more.