A vein of gold beyond imagination – but where is it hiding?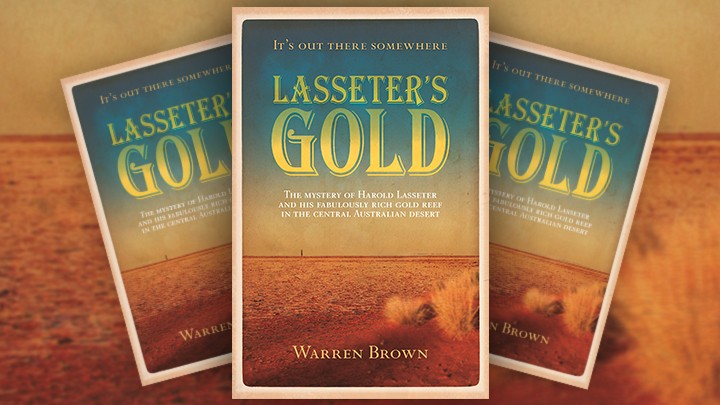 In a quote from Lasseter's Reef, Warren Brown says, "In 1930, Alice Springs (still gazetted as Stuart) was an outpost to the frontier of absolutely nowhere". It had little more than a telegraph station, a pub, a post office, a police station, and a handful of corrugated iron and canvas houses. Set on the Overland Telegraph line, it had become the northern terminus for the new Ghan railway.
This, then, was the starting point for that great exercise in futility, the Central Australian Gold Expedition (CAGE), otherwise the search for Lasseter's lost reef. That it was a fool's errand is fairly evident in hindsight, but we must remember the drastic financial circumstances of the time, the Great Depression and the desperate need for both personal and national income.
A hastily conceived and poorly executed expedition was organised through the offices of the AWU in Sydney. Even in the early days of fundraising at public meetings, doubts were thrown on the accuracy of Lasseter's story. The location of the incredibly rich reef of gold that ran for "as far as the eye could see" was based on sextant readings done with a watch set to the wrong time. An invited guest at one meeting was the airman and navigator, Charles Ulm. Writing in pencil on the back of a cigarette packet, he asked, "How much did you say your watch was out?" To which Lasseter replied, "About and hour." Ulm responded, "Then the reef must be somewhere in the Indian Ocean."
Counter to such doubts, though, and based on the calculations of union mining secretary, John Jenkins, "If (the reef) runs ten miles, is 12 feet wide, averages three ounces to the ton down to 100 feet, she would produce gold to the value of £66 million." An amount such as that, in 1930, would be beyond the dreams of mere man, it would solve the nation's debt!
Ad. Article continues below.
Mistakes were made by almost everyone involved. Brown's Lasseter's Gold covers them all, logically and comprehensively. As an example, an early decision was made to go with mechanised transport. A sponsor provided a brand new 6×4 Thorneycroft truck, which proved to be cumbersome and totally inappropriate. In addition, part of the exploration would be done by air; a de Havilland Moth aircraft was bought and a pilot found.
To put not too fine a point on it, this combination led to an entirely farcical situation. The Thorneycroft truck, intended to carry fuel for the aircraft, could itself manage just three miles per gallon. A smaller but more fuel efficient Chev truck had to be added to the convoy to carry fuel for the Thorneycroft!
I'm not going to write a lot about the CAGE exploration itself, for most readers will be familiar – to a greater or lesser degree – with Lasseter and his fabled reef and the failed forays attempting to find its elusive wealth. Lasseter himself most likely lost his life, alone, starving to death when left to his own resources in one of the most inhospitable environments on earth. Or did he? There were reports, even a stat dec, from responsible people who saw him, subsequently, in WA and the USA.
For years, I have admired and respected Warren Brown – for his intelligence, his writing, his wit, his artwork – and enjoyed his book, especially where based upon letters and other papers that have recently come to light. Although in a way a boys' own type adventure, Lasseter's Gold is a comprehensive coverage of an event that has become part of Australia's folklore. It is well written and entertaining. Very much a narrative work, it contains some small passages of dialogue. As Brown says, none of this speech is invented, it is all based on archival records.
Ad. Article continues below.
Recommended for those who like a good – factual – adventure yarn, for students of Australiana and for all who enjoy fact that is stranger than fiction. My thanks to Hachette Australia for my ARC.
Lasseter's Gold, by Warren Brown, is published by Hachette Australia – click here to purchase from Dymocks