A marked man. A damaged cop. A town full of secrets.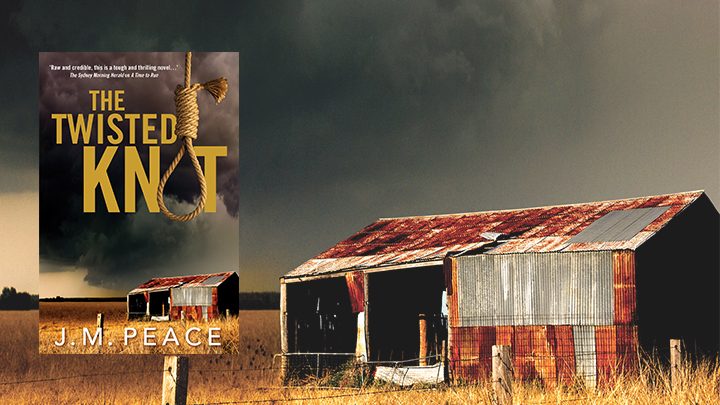 A small country town. An alleged paedophile is again molesting small girls. An angry mob enters the local police station. A noose and an anonymous note are left on the step. A young female police officer has returned following abduction by a sadistic murderer but is on station duty only. A scarecrow is set on fire on the front lawn of a house. A body is discovered hanging in a shed.
The Twisted Knot by J. M. Peace does not sound like my usual fare and yet, when it became available, I was more than happy to put up my hand to review. There were a number of reasons, not least that the book is Australian and, crucially, written under a pseudonym by a serving Queensland Police officer.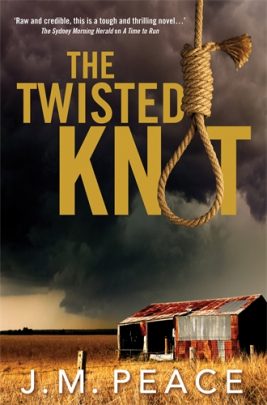 Constable Samantha Willis, 'Sammi', doesn't know if she is quite ready to go back on the road but accompanies the likeable sergeant Bob Simpson when his normal partner calls in sick. Little happens on Mondays. Sammi will be fine.
Threats have been made against Peter Woodford. Overnight, someone has driven to his farming property just outside town, placed a scarecrow on a stake on the front lawn and set fire to it. A neighbour sees it, drives over, puts it out and then notifies the Angel's Crossing police.
Ad. Article continues below.
Bob and Sammi drive out to the farm to investigate. They find a message, "DIE PEDOPHILE," scratched on the plastic face of the effigy, then climb the rickety stairs of the unkempt Queenslander. The front door opens as Bob turns the handle. There is no response when they call out to Peter, who lives there alone. Entering the house, they are assaulted by a smell "…between wet dog and body odour…," finding scuttling cockroaches among strewn magazines, clothes, dirty mugs and what look like engine parts.
Exiting the house and descending the back steps, Bob and Sammi approach the large Colourbond shed with two roller doors. On approach, their noses are assaulted by an overwhelming stench.
Both knew the smell, having experienced it before. 'Pete the Ped might have taken matters into his own hands,' Sammi speculates.
'Would certainly solve some problems,' Bob replies.
The discovery of a bloated body hanging in the shed, an overturned chair lying nearby, begins an investigation that is interesting, entertaining and highly involving. Tensions run high in Angel's Crossing, including the relationship between Sammi and her partner, Gavin, who works at a local garage with one of the book's main characters.
Ad. Article continues below.
The Twisted Knot has a number of possible scenarios. Sammi works with the small team, including a plain clothes constable who is the investigating officer. A number of clues become evident, one from the pathologist and others through good police legwork. There is a car chase in which a little old hatchback manages to evade the constables in a paddy wagon, much to the driver's chagrin.
The reader is drawn into the story as it unfolds, with chapters tailored as necessary to provide impact or greater detail. Some are rapid fire, at barely more than a page and others are of additional length; the former provide immediacy of action and the latter greater depth of explanation or investigation. The story is well written, its content professional and thoroughly understood by the author. There is nothing gung-ho or 'out there' about its writing; it is written in a matter-of-fact style and all the better for that. It has been an an enjoyable two-night read.
This is my introduction to J. M. Peace. I will most certainly keep my eyes open for other books written by her.
We are privileged to be part of the Blog Tour for The Twisted Knot, by clicking here you can link to other reviews and author interviews.
The Twisted Knot, by J. M. Peace, is available now.
Ad. Article continues below.

Join Books at 60 on Facebook, or sign up for our weekly newsletter below for more great reading recommendations!