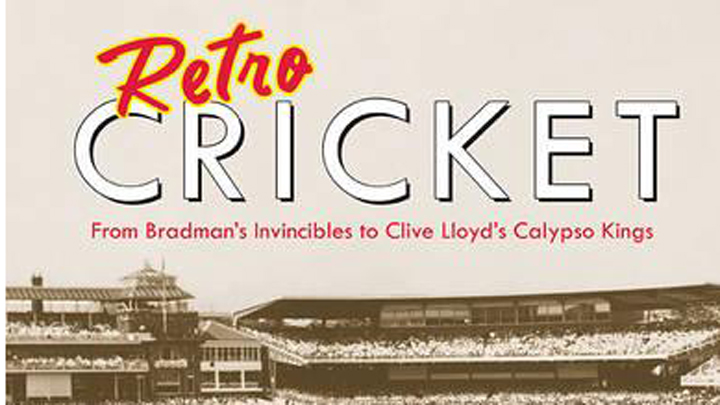 As the World Cricket Cup gets down to the business end of play and the nation which gave the world this endlessly fascinating game has flown home already, talk of legends and legendary heroes proliferate. And 'Retro Cricket' by Ian Collis is a book for cricket aficionados, taking us through the great players, the great matches, the controversies from the time of Bradman's Invincibles to Lloyd's Calypso Kings.
As with all the Retro series this is a beautifully produced book, full of photos with a thoughtful commentary.
Ad. Article continues below.
The early shots are all in black and white with many aerial shots of noted grounds with the players all in position. The crowds all wore hats – not green and yellow sombreros, but sober business-like hats with the suits or sports jackets. For someone who has never played cricket, there seemed to be a lot of these shots. I think it would mean more to those who remembered the matches or who were players.
My memory clicks in with the famed Australia-West Indies series of the summer of 1960-61. I listened to it with my grandfather, who gave patient explanations all the way.
The action photos are superb catching magnificent bowling action and catches that defy belief, but there they are in black and white.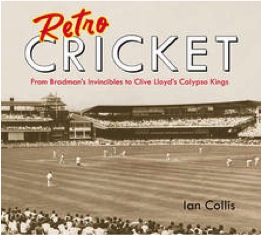 The established cricketing nations are all there – Australia, England, West Indies, India, Pakistan, New Zealand and South Africa.
There are lovely shots of the teams travelling by sea, practicing or socialising on the long voyage. Once at the destination, teams travelled by train, quite arduous with Australia's long distances. There are many photos of fans running onto the pitch at the end of a match, and players being swamped as they try to leave the ground. There are delightful shots of people lounging under trees, and prams pulled up in the shade. The ladies wore stylish hats. In one photo, England and New Zealand players gather round for a cup of tea in thick china on a very cold day. Certainly, a time past. There are many pictures of situations where rain has stopped play, so some things never change.
Ad. Article continues below.
Sometimes, though, the captions are incomplete when naming a group of players and there are spelling mistakes.
The book does not shy away from the controversies. The 1970s saw opposition to apartheid threaten the matches and player safety with South Africa eventually being banned from international competition in a number of sports. I have a photo I took in Brisbane when South Africa was playing Australia with the first two non-white South Africans in the field. Things can change.
I was listening to the cricket one warm Saturday afternoon, watching my husband play cricket at the Narrandera Cricket ground when the match I was listening to took an ugly turn. John Snow had bowled a bouncer, the crowd became irate and some beer bottles were thrown. Illingworth led the England team from the field. It's all here in the pictures and commentary.
The question of whether a batsman should "walk" is posed by referring to an incident when Geoff Boycott was run out.
Many of the cricketers featured here are now commentators and it is a delight to see the young Bill Lawry and Richie Benaud in their prime.
Ad. Article continues below.
Dennis Lillee's battle with injury and his overcoming that terrible back condition is well documented.
The World Series cricket of 1975 between Australia, England, East Africa, India, New Zealand, Pakistan, Sri Lanka and the West indies has many interesting photos and a detailed account of the tournament.
The book concludes with the Centenary Test of 1977.
There is absolutely no mention of women's cricket.
I would like to have seen commentators and umpires acknowledged. Umpires are an integral part of a game and their knowledge, skills and integrity make or break a game. For most of us commentators are a part of the game, and we develop our favourite commentators and teams.
Ad. Article continues below.
This is an ideal book for cricket lovers, particularly those who remember this era or parts of it. It is available in stores now.
I would like to thank New Holland Publishers for their review copy of this book.
Ad. Article continues below.
What cricketing highlights do you remember from your childhood? 
 ————————————————————–
Love books?  Sign up for our Starts at 60 Bookclub, coming soon by filling out the form below.  Receive deals, giveaways and updates on the books other over 60s are enjoying.