A chilling, complex murder mystery masterpiece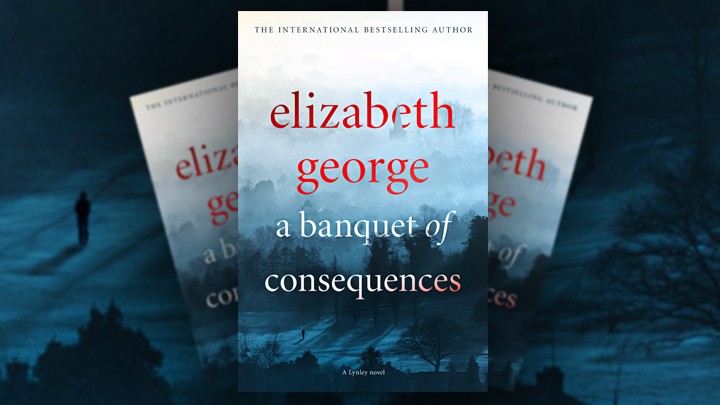 It is a great privilege to read a new book by Elizabeth George. As a reader, I know I will be challenged by a complex array of characters and situations, the story will take place in a well-realised setting, an issue of our society will be examined in a thought-provoking manner and the question of justice will leave us pondering. Rarely is anything clear cut in an Elizabeth George mystery.
Read to the end for your chance to win a copy of this fantastic novel!
The advance copy of A Banquet of Consequences declares this Linley and Havers "darkest, most disturbing case". I find the crime quite monstrous. I don't think it necessary to have read any of the previous books about Thomas Linley and Barbara Havers to enter into their back story. The first three books I read by Elizabeth George I read out of order.
When we first meet Barbara Havers in this book she is in trouble, again. Barbara Havers is a brilliant eccentric police officer, but a rebel. As is said of her on p47 "But Barbara being Barbara and hand forcing being her primary forte, along with line crossing and going off the rails…". Barbara has to redeem herself professionally in the eyes of Isabelle Ardery, who really wants to be rid of her. Thomas Linley is there supportive as ever, and Winston Nkata is there as a teammate and colleague.
Dorothea Harriman, a civilian employee, takes it on herself to take Barbara's personal life in hand. The scenes where Dee and Barbara go speed dating and clothes shopping provide real comedy but done with such a sure touch we are never laughing at, but enjoying the situation with sympathy. Barbara and Winston's opposing diets are always a topic of humour. Deborah and Simon St James only appear briefly in this novel.
Ad. Article continues below.
Thomas Linley, of the aristocratic background, is in a tenuous new relationship with Daidre. This is one of the strengths of George's books, that she can portray the complexities of relationships between couples so convincingly. Nothing is ever rosy, the relationships are shades.
In 'A Banquet of Consequence' relationships are important, not only Linley, recovering still from his grief at the murder of his wife, but Rory and Fiona, a complex lesbian relationship. And Alistair and Sharon struggling to find their chance at happiness.
The book is curiously dated. Before 8 December. 39 months before. Before what?
George skilfully builds up her cast of characters, their relationships, their insecurities and mysteries so that I was wondering, "Who is the victim?" long before I was looking for a perpetrator.
A prominent feminist is doing the talk circuit for her book, 'Looking for Mr. Darcy', unsurprisingly an examination of why some women need a man to complete their life. Clare Abbot is successful as a writer and speaker. Barbara Havers goes to one of her lectures and has a brief and pleasant exchange with Clare Abbot, a somewhat intriguing one with Clare's minder, Caroline Goldacre, and a pleasant exchange with Clare's editor Rory Statham. The stage is set.
Ad. Article continues below.
The feminist discussion moves through the book, as does the concept 'the fellowship of women' and George gives a multifaceted perspective as the story unfolds. Caroline and Clare provide a counterpoint to Dee and Barbara.
When Will, Caroline's young adult son suicides, the story moves to Dorset where Caroline lives with her husband who runs a chain of successful bakeries, and Clare has a house. Caroline has another son, Charlie, a psychotherapist whose marriage is breaking down. This is a feature of Elizabeth George's work. The setting is a powerful component of the novel. There is, of course, London home of Scotland Yard, and the detectives. The little I know of London rings true. The novels also move outside London, where the chosen setting is carefully described. This not only provides a contrast to the turmoil of events and personality clashes but gives a portrait of the English countryside. On p 319 there is a lovely description of Linley's walk to the London Zoo. Believing the Lie is set in the Lakes District, Careless in Red in Cornwall.
As Tolstoy observed: "Happy families are all alike; every unhappy family is unhappy in its own way". This is a thought that Elizabeth George illustrates in her books. Not only do some of the detectives illustrate this, the families of victims do. And certainly the Goldacre family is thoroughly dysfunctional.
Not surprisingly in a murder mystery there is grief and reactions to grief. Again, this involves the detectives as well, as Thomas Linley works through his grief. We see the varying reactions from Lily, who is consumed with anger and revenge, to Charlie, crippled by guilt and to Clare who in sympathy creates a beautiful memorial.
Elizabeth George always questions the nature of justice. The ends are not always nearly tied. Justice served, but not always the law. This happens in A Banquet of Consequences. In Believing the Lie, the verdict of accidental death is upheld but leaves the reader with a list of suspects.
Ad. Article continues below.
I am grateful to Hachette for this advanced review copy. It is another masterpiece and the reader will be immersed in the complex web of characters and deeds in our current society.
A Banquet of Consequences, by Elizabeth George, is published by Hachette Australia.
Click here to purchase from Dymocks
Thanks to Hachette Australia, lucky Starts at 60 Book Club members can win a free copy of A Banquet of Consequences.
Just answer this question in 25 words or less. On which page of the review does the author describe Linley's walk in London Zoo?
(Hint – it's in the above review!)
Ad. Article continues below.