A beautiful pictorial history of New York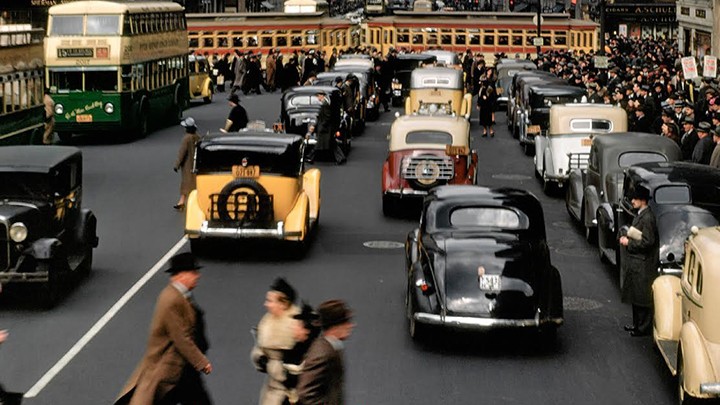 A few months ago, Vivienne Beddoe wrote a lovely review about a similar photographic history, Retro London. It, too, was based on images available through the Mary Evans Picture Library. I thought it fitting, the second time around, to offer a few words about the source.
Mary Evans and her husband, Hilary, were passionate collectors of photos, old books and other historic items.  One day in the early 1960s, at the suggestion of a friend, the Mary Evans Picture Library was formed as a family business. Half a century on, still maintained by family and employing only locals from their Blackheath Village area in London's south-east, it operates as a source of pictorial history for personal, editorial and commercial use. The photographs used in Alan J Whitaker's book came from, or were sourced through, the library.
First impressions of Retro New York, The Way We Were are excellent. It has padded covers front and back, helping make a moderately heavy book more comfortable to hold or to rest on the lap. The cover is attractive, with its title in bright, semi-cursive script on a matte, full-colour photo of pedestrian, bus, car and trolley transport in 1940s Manhattan.
Equal parts photographer and lover of history, I enjoyed the book immensely. It provides graphic coverage from the very early days of photography through to the mid-1970s. All photographs are captioned although I found, on occasion, I had want of more information. Four or five times I went into my search engine to find the detail I sought (and have to admit, on two of them, correcting prior misapprehensions!)
Inevitably, despite excellent reproduction, many photos are of lesser quality than we now accept as the norm. These, rather than lessening the experience, actually enhance it because of the nature of the book. One such is the picture below, from page 247.
Ad. Article continues below.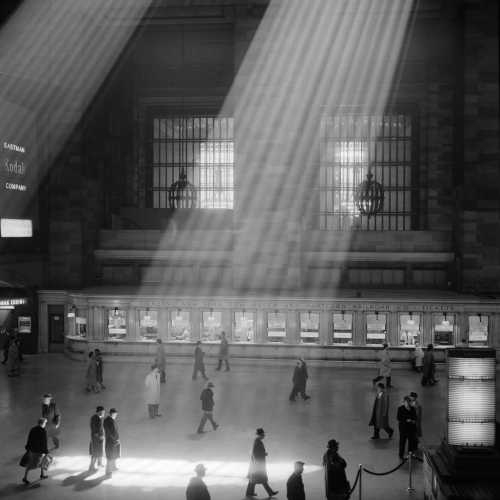 Taken around 1964, it portrays an almost ethereal scene in Grand Central Station. People walk along the atrium of the ticket hall, in sunbeams filtering through the dust and smoke inevitable in a railway station.
Many of the photos are favourites, with some reproduced many times before. That does nothing to reduce the impact of their use in this book, which is enhanced by its eight chapters, including Historic Events, New York At War, Lifestyle and Leisure, and Transport, dividing it into natural categories. There remain many other shots new to your reviewer. Not least are those in the early years of WW2 showing the shame of American Nazi sympathisers (not that they were unique to America, of course), two of which I had not previously seen.
Ad. Article continues below.
I see Retro New York as an excellent reference book for those with an interest in a pictorial view of history, for a home with children keen to learn and explore, for libraries and, perhaps especially, for schools. Although much it contains is commonly available online, what it carries between its attractive covers is in one place, all together and permanent. Oh and, of course, there is nothing that compares with the tactility of a book.
Thank you to New Holland Publishers Pty Ltd who provided the ARC to review.
Retro New York, The Way We Were, by Alan J. Whiticker is available to purchase from Dymocks