Bono's latest award causes social media meltdown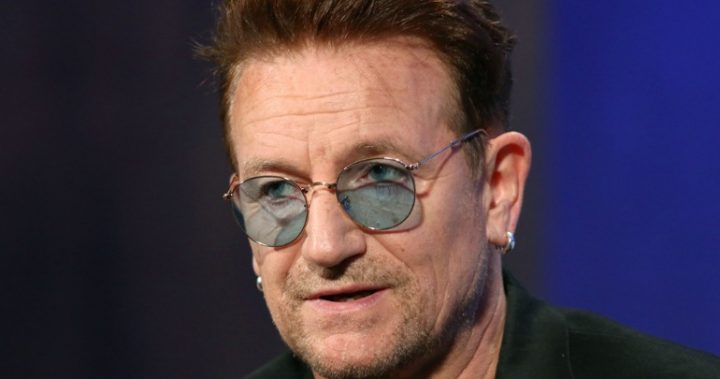 Forget Donald Trump winning the presidency, here's something that no one predicted – the Glamour Woman of the Year award has picked a man as a recipient for the first time in history. Yes, U2 FRONTMAN Bono become the first man in history to win the award at the event in Los Angeles. How did he win the award? The 56-year-old singer, was recognised after his ONE organisation launched a Poverty is Sexist movement last year aimed at helping the world's poorest women through better access to education, health services and business opportunities.
When Glamour Magazine announced Bono would be receiving an award at the annual event earlier this month, they admitted how in previous years they'd deliberately avoided giving it to men. But in 2016, the magazine declared "when a major male rock star who could do anything at all with his life decides to focus on the rights of women and girls worldwide — well, all that's worth celebrating. We're proud to name that rock star, Bono, our first Man of the Year," the statement read.
When news of Bono's win was announced, many on social media felt it was comical to give a man of the year award at a women's event.
Comedy writer Travon Free tweeted "Does Glamour magazine know giving Bono the Woman of the Year award to try to undo patriarchy undercuts the entire point of the award?"
Another social media user, Melody tweeted: "Just shows how messed up the world is when #Bono wins woman of the year, r u seriously telling me they couldn't find a woman."
Ad. Article continues below.

And Bono himself even described him winning the award as "ridiculous".
"I know how ridiculous it is for me to be on this stage accepting this award," the Irish singer said.
"But if I didn't know how ridiculous it was, I did have the blessed internet to remind me."
The mega star who accepted the award in front of a star-studded crowd including Gwen Stefani, Lena Dunham and Christine Lagarde, used the platform to urge President-elect Donald Trump to make gender equality a "priority" when he enters office.
"There is nowhere on Earth where women have the same opportunities as men," he said
"Unless we address this problem, both men and women together, the world will continue down this misogynistic, violent and impoverished path.
"I say to the President-elect: look across to women, make equality a priority, it is the only way forward.
"The train is leaving the station, be on it or be under it."
What do you think of Bono's new award? Did he deserve the flack or should people stop blaming him?