Did Blurred Lines bass line come from Marvin Gaye's hit?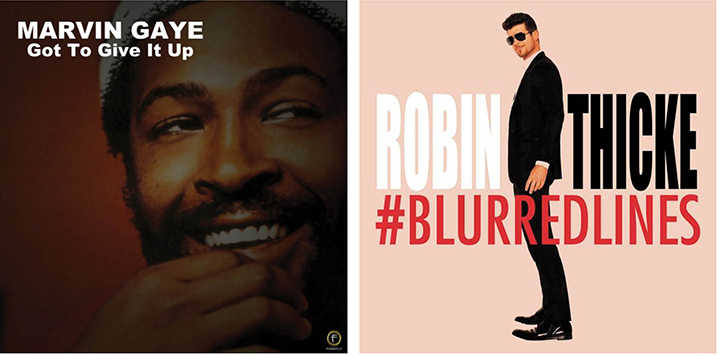 Marvin Gaye's "Got to Give it up" is a song many here will remember well.  But did you connect its base line with the big hit of the year "Blurred Lines" by Robin Thicke?  A federal copyright infringement trial is underway in the USA in which the children of Marvin Gaye are suing Thicke, singer and producer Pharrell Williams and rapper T.I., alleging that their 2013 summer hit "Blurred Lines" infringes on Gaye's 1977 song.  Nearly four decades on from the release of the original song, a musicologist Judith Finell has declared in court that some of the musical elements are "too close for comfort".
"It's the same notes, the same rhythm, it's just … the same," she said, comparing a line from the two songs.
The LA Times reported that Finell said the hook, bass line and a melodic theme repeated throughout the songs were very similar. So were parts of the lyrics, she told jurors, including lines that the family's attorney, Richard Busch, deemed too vulgar to read out loud in court. Both songs break into a spoken interlude — T.I.'s rap for "Blurred Lines" and the parlando in "Gotta Give It Up," which she said is a precursor to rap — at the same point in the song.
According to media reports, earlier this week, one of the executives for Universal Music Enterprises,Harry Weinger, who manages Marvin Gaye's catalogue, was brought to the stand to testify about emails he had written after "Blurred Lines" became a hit.
He said that at the time, he wrote an email encouraging the business to take advantage of the raunchy "Blurred Lines" video's popularity to advertise the Gaye song on YouTube. Attorneys showed jurors the email, in which Weinger wrote that the Thicke song was "utterly based on" Gaye's song.
Ad. Article continues below.
"They just seemed really alike," he said.
The court case continues next week.
So today… we have both songs below…
Do you think "Blurred Lines" contains the same bass line as "Got to give it up"?