Betty White: Why would I retire?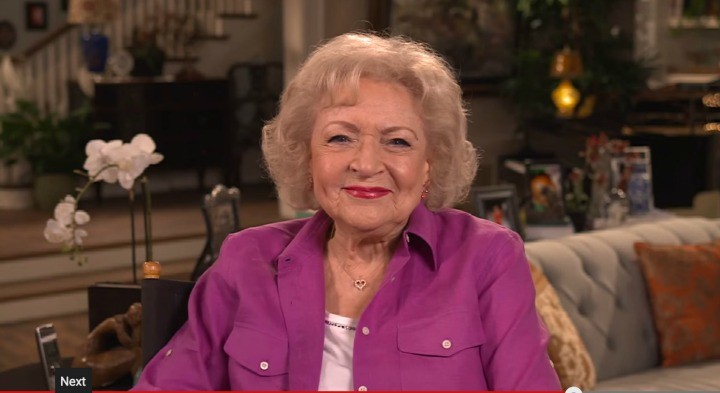 With her irrepressible smile and sharp wit, Betty White is the Queen Mum of entertainment. And, at 93 years old, she is proof you're as young as you allow yourself to be.
Presenting a gong to her long-time agent Jeff Witjas this week at the TMA 2015 Heller Awards, Ms White was as sparky as ever, posing on the red carpet and giving a charming speech.
Ad. Article continues below.
The actress has had a busy few months. In April, she won a 2015 Lifetime Achievement award at the Daytime Emmys, telling Variety magazine that  it as an undeniable "honour" that she was thrilled to receive.
Ad. Article continues below.
Shortly after that, she appeared on  Jimmy Kimmel Live! and had the host and audience in hysterics with lively banter. The star of the Mary Tyler Moore Show and Golden Girls went to to say that she still loves to drive and travels to her holiday home regularly.
Earlier that month, Ms White was at the TVLand awards with the co-stars of her show Hot in Cleveland.
The series has now ended, but Ms White told Variety she has no plans to retire from Hollywood.
When asked why she responded, "I don't want to rest. I just like to work."
Ad. Article continues below.
In an interview with Oprah Winfrey, Ms White expanded on the matter. "When you're as blessed as I am with the good health I have, that's the bottom line. I never take it for granted. I appreciate it more than I can say."
Though the actress says good genes are the main cause for her strong health, she does have a great exercise trick: "I have a two-story house and a very bad memory," she says. "So I'm up and down those stairs all the time!"
She also told Oprah she never felt pressure to lie about her age, as happens so often in Hollywood.
"What's the point of trying to fool anybody? Besides, my mother always said, 'Don't lie about your age. You'll forget and you'll slip up, and then you'll look ridiculous.'"
Ms White will continue her to work with animal charities, for which she has received much recognition, including a  bronze plaque near the Gorilla Exhibit at the Los Angeles Zoo. In 2011, she was found to be America's most popular and trusted celebrity. She has 1.2 million followers on Twitter.
Ad. Article continues below.
Love your pet every day throughout your life. #LoveYourPetDay pic.twitter.com/DYp0YEqE2U

— Betty White (@BettyMWhite) February 21, 2015
Do you hope to be as spritely as Betty White in your 90s? How do you think she does it?