Beloved rockers at the end of their touring life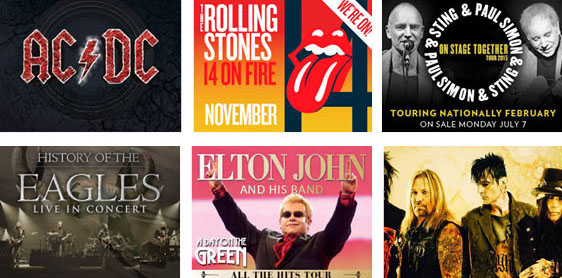 Every now and then you stop and take a look around at the classic rock concert scene and are reminded just how wonderful the good old classic artists are. But the big confronting thing we are facing as we all get a little older here is the mere mortality of our beloved rock stars and supergroups, and their inevitable retirement.
It is scary to think that in the next few years, it is likely that many of the groups and singers we know and love will step out of the limelight and start seeking the satisfying retirement we all dream of. And, they'll have more money in their pocket than you and I to chase their dreams, so we'll be lucky to see much of them once they've stopped work.
In fact, when we look around, the good old days are already coming to an end, with many of our favourite rockers on, or finished, their final tours, or what is claimed to be their final tours.
So far in 2015 and the latter half of 2014, Australia and New Zealand saw an influx of tier one superstars pledge that the end of their touring career is coming.
Everyone from Motley Crue to The Rolling Stones, The Eagles, Paul Simon, Sting and Suzi Quattro have trolled through town and in coming months we'll see AC/DC, Elton John, and potentially U2, all of whom are talking about this being their last tours ever on this side of the world.
Ad. Article continues below.
It's a heartbreaking thought to consider that the musicians we once looked to as the examples of danger, fun and lifestyle are winding down, but an all too true reality, so we have to make the most of these, the last opportunities to see them.
The biggest artists we have seen in recent months and wont likely see again include:
The Eagles, who toured in their 'History of the Eagles' World Tour which came through Australia in February and March 2015. It was the band's first trip to New Zealand in 20 years, and whilst they have not pledged it as the last ever, at an average of 67 years old, members Glenn Frey, Don Henley, Joe Walsh and Timothy B Schmit could well be nearing their last tour. They delivered an incredible three-hour songfest of classic Eagles hits, including tracks the band had never previously performed live which got everyone talking.
Paul Simon and Sting, who came together, and might be comparable with the recent John Farnham and Olivia Newton John concert for its preciousness. Some of music's favourite solo artists, we know they wont necessarily be as accessible, nor want the touring life forever.
Suzi Quattro, who toured in January 2015, and says she has lost count of how many times she has toured Australia since her first tour in 1974. And she's called it quits after this tour.
Ad. Article continues below.
" I think this tour will be number 29! It's [Australia is] my second home and I love it dearly. This year I celebrated my 50th year in the business and it just felt like the right time to take my final bow.  It's a daunting prospect and one I am preparing seriously for. I want this to be a night to remember in every way… tears, laughter and lots of rock and roll. This has been my life.  Nobody in the world rocks as hard as the Aussies…and from me that's what they're gonna get… foot on the gas and go. So looking forward to this tour"
We know that every time we see our beloved Rolling Stones that is could be the last time, although we are sure they will be immortalized in music legend.
Mick, Ronnie, Keith and. Charlie were here in November 2014, despite earlier tragedy and strutted their stuff on stage in front of us. Anyone who has seen them before will have them etched in their mind forever. And even though they are getting older, they never seem to age.
Elton John has pledged that his upcoming tour through Australia in December 2015 will be his last, saying he wants to spend more time with his husband and two young sons. So his tour, Elton John and his band" is likely to see so many hearts broken in Australia when we can see him on stage no more.
And ACDC are coming back in November and December 2015 too, in what has been professed to be their last tour, they will blast their way through five outdoor stadiums in the capital cities on the ROCK OR BUST world tour.
Ad. Article continues below.
Motley Crue who  are touring this week throughout venues in Australia, are showing their refined, hard rock status off to audience who have loved them for decades.
But if it all comes to the crunch, we can probably rely on John Farnham to have set the benchmark. Hopefully, after they experience the taste of retirement they'll get bored and have a "comeback tour", then perhaps another, and another, and another…
Did you go to any of these concerts, or do you have plans to go to the upcoming ones?  How do you feel about your ageing rock heroes retiring?