Barnaby's dream come true: Johnny Depp's wife gets summoned to the dog house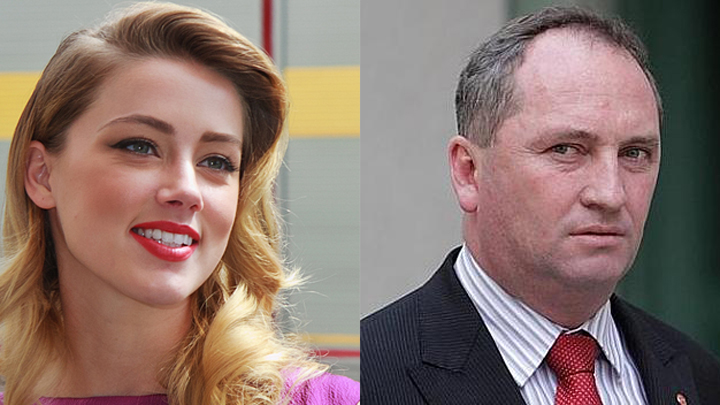 Barnaby Joyce is no doubt howling to himself after news that Johnny Depp's wife has been summoned to the dog house for bypassing our strict quarantine laws.
29-year-old Amber Heard has been issued a summon by Commonwealth Director of Public Prosecutions over a biosecurity breach. In May, the Hollywood actress illegally brought her and Depp's dogs Boo and Pistol into Australia on a private jet.
Heard has been charged with two counts of illegal importation contrary to the quarantine act and one count of producing a false document, according to the ABC. She could be slammed with fines of up to $100,000 or up to 10 years imprisonment.
The two pooches were spotted on social media at a Gold Coast dog grooming salon, which led to the discovery that the Yorkies were not declared on entry to the country. Johnny Depp has been filming the latest film in the Pirates Of The Caribbean franchise.
At the time, Agriculture Minister Barnaby Joyce issued an ultimatum to Depp, telling him to get them out or they'd be put down.
Ad. Article continues below.
Asked by SBS today if he was concerned the legal action was a step too far, Barnaby Joyce said, "No, it's not. The law is the same for everybody.
"There is no preferential treatment here.
"You come into our nation, you have to abide (by) biosecurity protocols.
"It's not just the people on the streets that would be affected, if [rabies] got out into the general wild dog population in Australia, which is massive, it would have devastating effects.
"It's also a pathogen that could make its way into the bat population, and how many towns do you know that have a bat colony smack bang, unfortunately, in the middle of town?
Ad. Article continues below.
"We've got enough problems with them, let alone if they became rabid".
Heard is due to appear in the Southport Magistrates Court on September 7, though knowing celebrities and their connections, it is not yet clear whether she will actually present at court.
Tell us, do you think that more celebrities should have their day in court and be tried like any other citizen? Or was the Government doggone mad to sniff them out?