Bad boy of tennis arrested in Miami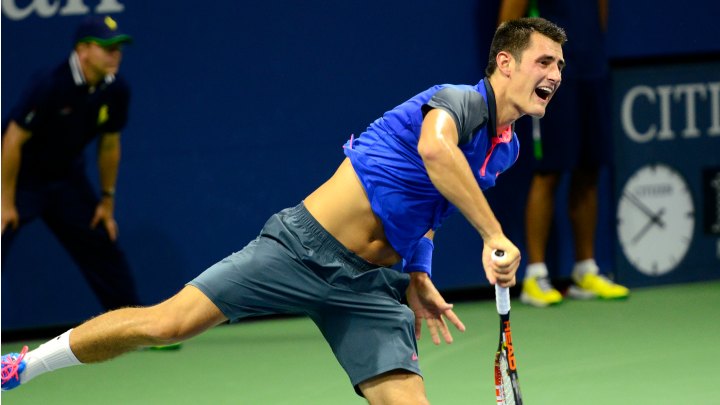 Bernard Tomic continues to do himself no favours off the court. Just a week ago, the 23-year-old was dumped form the David Cup team for laying into Pat Rafter and Tennis Australia officials at Wimbledon. And last night he found himself behind bars in Miami.
Tomic was charged with resisting arrest and trespassing after he refused to leave his room at the W Hotel penthouse in South Beach, Miami.
Complaints had been made about noise as Tomic held a party with some friends. Hotel guests, then security, then the police all came to the door of the penthouse to tell Tomic to tone it down, and each had the door slammed in their face.
In the end, Tomic was arrested and taken to jail at about 5.30am.
He was eventually released after his $US2000 ($1481) bail was posted.
Ad. Article continues below.
In the Miami Beach police report, obtained by Fairfax Media, witnesses said Tomic  "pointed his finger aggressively" at staff and police and refused to turn down the music.
While his friends took the message and left, Tomic remained defiant, hurling abuse at the police.
The party was held after Tomic's first-round exit from the Hall of Fame Tennis Championships in Newport, Rhode Island, at the hands of fellow Aussie John-Patrick Smith on Monday.
Tennis Australia was forced to issue an apology to Tomic after "accidentally" referring to the match in an email as  "Hall of Shame Tennis Championships".
Clearly the young tennis player has got a bit of a chip on his shoulder but are his off-court shenanigans starting to affect his game?
What advice would you give to Bernard Tomic if he wants his tennis career to go somewhere?