Rocky Horror, hubba hubba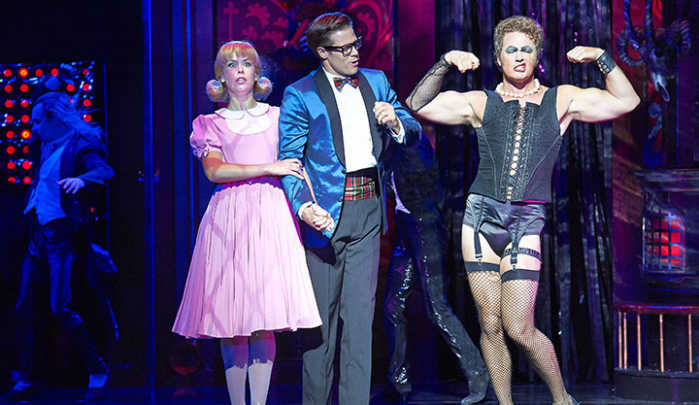 I'm sure many of you have seen, at some stage in your life, The Rocky Horror Show either on stage or screen, but never would you have seen it like I saw it last night on its opening night in Sydney. Or not yet anyway.
The Rocky Horror Show has toured Australia over the last year, selling out in Brisbane, Perth, Adelaide and Melbourne, and now it has returned for another season at the Sydney Lyric Theatre, but only until early June. And, having seen it on opening night, I can say with confidence that it is certainly a modern, risqué, entertaining update on the musical that has always been good fun to watch. It was a laugh a minute, full of puns that would make you blush that go right to the heart of today's culture.
But there is something special about this version, and I have to put it right out there: Craig McLachlan …a big "thumbs up"! McLachlan made the show having been awarded Best Male Actor in a Musical at the 2014 Helpmann Awards for his role in this production last year.
There was no doubting it. And he did so alongside a small, well-chosen cast that balanced nicely around him. Amy Lehpamer played the perfect Janet with the melodrama the role needed, Stephen Mahy made me feel like I was watching an early geeky Guy Pierce with his style as Brad. Then, as you would expect, amid a transvestite show, Bert Newton made it respectable providing the narration, subtext and situation to ground what was at times onstage mayhem. It was a fun combination to watch indeed.
Ad. Article continues below.
It is hard to be critical of a cast like this, or their performance. McLachlan, the 80s heartthrob from Neighbours fame, is probably in the best shape of his life, as he totters across the stage in heels, fishnets and a bustier with awesome confidence. He knows it too, landing perfectly timed quips with just the right amount of sexual innuendo to make the show even more than you'd expect. His voice was nothing short of sensational, echoing through Sydney's Lyric Theatre, and the rest of the cast didn't disappoint either. Riff Raff was played by Kristian Lavercombe and his performance of the Time Warp happened with piercing perfection. Jayde Westaby (Magenta) had some terrific occasions to play off vocally with McLachlan almost taking the roof off.
This is definitely a modern, souped up version of the classic, so if you are easily embarrassed, be prepared in advance. With nothing off limits it seems there will certainly be plenty talk about afterwards. In fact, there was even one section that made both me and my guest blush, I think!
When did you last watch The Rocky Horror Show?
Ad. Article continues below.
Venue:  Sydney Lyric Theatre, The Star 
Season: From 11 April 2015
Performance Times:  Tues 7pm, Wed–Sat 8pm, Sat matinee 2pm, Sunday 1pm & 5.30pm
Price:  From $69.90*
Bookings: Ticketmaster.com.au or 1300 795 267 Groups 8+ call 1300 889 278
Venue:  Comedy Theatre, Melbourne 
Performance Times: From 12 June 2015
Season:  Tues 7pm, Wed–Sat 8pm, Sat matinee 2pm, Sunday 1pm & 5.30pm
Price:  From $69.90*
Bookings: ticketmaster.com.au or phone 1300 111 011 Groups 8+ call 1300 889 278
Here's a birds-eye view from last year's performances, on Youtube!
Photo credit: Brian Geach