Paul Simon retires from touring after 50 years to focus on his family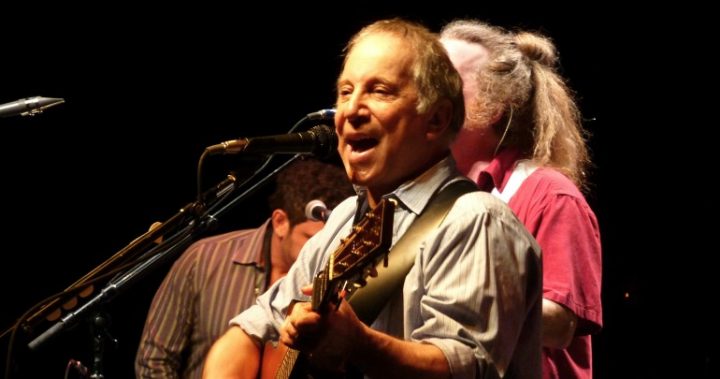 Paul Simon has announced he's retiring from touring after 50 years in the limelight.
The singer and star of Simon and Garfunkel, 76, revealed he hopes to spend more quality time with his family, and felt a sense of "relief" to end his performing career. 
He was first inspired to make the sad decision after the death of his long-time guitarist Vincent Nguini, and now hopes to perform the odd show in acoustic halls, and donate the proceeds to various philanthropic organisations. His final tour starts this spring, and ends in July.
"I've often wondered what it would feel like to reach the point where I'd consider bringing my performing career to a natural end," he wrote in a statement. "Now I know: it feels a little unsettling, a touch exhilarating and something of a relief."
A message from Paul Simon — February 5, 2018https://t.co/kdNRIgKswR pic.twitter.com/EFq3Ry4cUp

— Paul Simon (@PaulSimonMusic) February 5, 2018
Ad. Article continues below.
While he said his voice remains strong, and he still enjoys his work, the death of his close friend was a wake up call. He added: "I feel the travel and the time away from my wife and family takes a toll that detracts from the joy of playing."
He concluded by thanking his loyal fans for their love over the last five decades, and wrote: "I am very grateful for a fulfilling career, and of course, most of all to the audiences who heard something in my music and touched their hearts."
Simon's career itself really began to take off in 1964 when he collaborated with Art Garfunkel as the duo Simon and Garfunkel. Simon wrote most of their top hits, including 'The Sound of Silence', 'Mrs Robinson' and 'Bridge over Troubled Water'. After the pair split in 1970, Simon continued as a hugely successful solo artist, and his 1986 album 'Graceland' sold around 14million copies worldwide.
.@PaulSimonMusic Announces "Homeward Bound – The Farewell Tour"
Ultimate concert performances in North America, UK and Europe, promising audiences an historic evening of career-spanning hits and timeless classics#PaulSimonFarewellTour #HomewardBoundhttps://t.co/m6cdccVnwD pic.twitter.com/iaVGs6TAJI

— Paul Simon (@PaulSimonMusic) February 5, 2018
Ad. Article continues below.
He has since announced several dates for his Homeward Bound – The Farewell Tour in North America, UK and Europe. It comes just a week after Elton John announced he would be quitting touring to spend more time with his family.
Read more: Emotional Elton John makes heartbreaking retirement announcement
"I'm not going to be touring anymore," Rolling Stone reported the songwriter telling Anderson Cooper at a conference. "I'm not going to be touring and travelling the world. My priorities have changed. I have young children."
Ad. Article continues below.
His press conference was streamed online and around the world, where he said that fans would still have one final chance to catch a glimpse of him before he turns away from touring. He will be embarking on a lengthy world tour, performing more than 300 shows over a few years. "I don't want to go out with a whimper," he suggested. "I want to go out with a bang. It'll be the most produced, fantastic show I've ever done."
He added that now was the right time to say goodbye to his fans and that he needed to focus on his family and children. His eldest, Zachary, is now seven, while Elijah is five years old. "I'm 71. I can't physically do the travelling anymore. I want to be at home. I really want to spend time with my children at home. I've had an incredible life, but life is all about to change." Still, he promised that it wouldn't be the last fans would hear from him and that he would still be creative.
Are you a fan of Paul Simon? Which was your favourite of his songs?
---
With Facebook removing news sites from your feeds we ask that you sign up for Starts at 60's emailers here. And to keep us on your wall, join some of our new Facebook groups and clubs:

News Junkies Club – Australia
News Junkies Club – USA 

See news on the change and links to all our other clubs and groups here.