Keith Urban's incredible tribute to artists we lost in 2017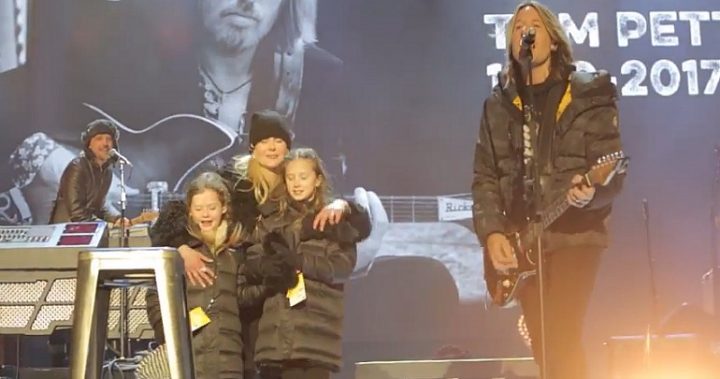 The world lost a lot of amazing musicians in 2017 and Keith Urban has honoured some of the best with an incredible medley of hits.
The country singer wowed the crowed at Nashville's New Year's Eve party, Music City Midnight, with his covers of classics from ACDC's Malcolm Young, Glen Campbell and Chuck Berry.
He pulled out something extra special for the finale though, belting out Tom Petty's 'Free Fallin' and inviting his wife Nicole Kidman and their two daughters, Sunday Rose, 9, and Faith Margaret, 7, on stage to share a dance with him.
Despite the near-freezing temperatures an estimated 100,000 fans came out to see Urban and he didn't disappoint. The signer put on an energetic performance rugged up in a heavy jacket and boots.
Ad. Article continues below.
Urban and Kidman recently returned to the US after spending Christmas with their families in Australia.
Speaking at the concert, Urban cheekily told the crowd what he got his wife for Christmas.
"I gave Nic a backpack, some amazing jewellery, and umm, things we can't talk about," he laughed.
The pair regularly make trips back to their home country Down Under and shared a happy snap from their balcony in Sydney on Christmas Day.
Ad. Article continues below.
Read more: Nicole Kidman posts touching tribute to mum and sister
The couple has spent much of their 11-year marriage in Nashville, America's home of country music and the perfect base for Urban's career as a musician.
However, they might not be in the area for much longer. They've put their lavish 36-acre home in Franklin, Tennessee on the market.
Variety reports the couple have are selling their property for $3.45 million after purchasing it for $2.45 million in 2007.
Are you a fan of Keith Urban? Which artist were you saddest to see pass away in 2017?