From Elvis to folk music, the 2018 festivals perfect for all ages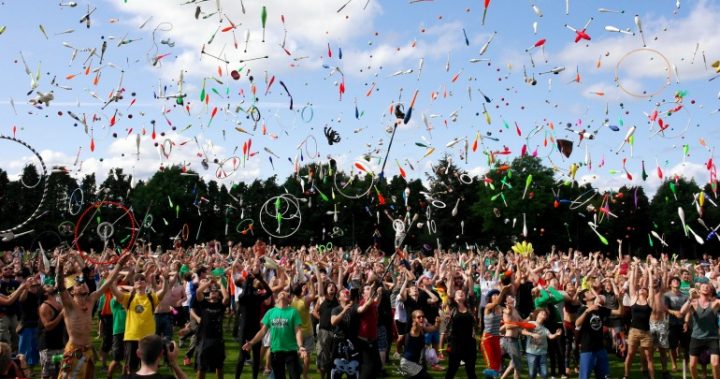 You may have slotted festivals firmly in your memory bank, never to be experienced again. But if you're writing off festivals as just for twentysomethings, think again.
From Elvis Presley impersonators right through to country and folk music, there are some incredible music events coming up this year – and they're perfect for every generation. After all, those dance shoes and summer outfits are too much fun to put away for good!
The Parkes Elvis Festival took place on January 10 in New South Wales, with people from across the country dressing up as the King of Rock 'n' Roll and partying together. From young children right through to grandparents, a sea of huge dark wigs, white costumes and guitars filled the streets, train stations and parks. 
According to its official Facebook page, the festival features the Ultimate Elvis Tribute Artist Contest (with the winner representing Australia in Memphis, USA), a concert series starring a special guest artist, the Northparkes Mines street parade, a renewal of vows ceremony, the Goodsell Machinery Miss Priscilla Dinner, and many free live concerts, competitions and prizes.
Ad. Article continues below.
Read more: Springtime Celebrations: Australia's Best Garden and Flower Festivals
Now in its 26th year, the festival continues to grow – with over 150 events across five days to coincide with Presley's birthday. But it's not the only music event aimed at all ages, and there's a calendar of more top attractions for 2018.
Woodford Folk Festival
You may have just missed this year's festival, but it's worth adding this to the calendar for the end of December 2018. The music event takes place every year across six days over New Year, just outside Brisbane. With around 2,000 performers and nearly 500 events, it's grown to become one of Australia's biggest cultural celebrations.
Ad. Article continues below.
The official website says: "The festival programme features concerts, dances, street theatre, writers' panels, film festival, comedy sessions, acoustic jams, social dialogue and debate, folk medicine, an entire children's festival, an environmental programme featuring talks, debates and films, art and craft workshops, circus performances and workshops, late night cabarets, parades and special events including a spectacular fire event."
On top of all that, there are pop-up restaurants, cafes, stalls and bars, as well as street theatre and parades.
"Tree-filled campgrounds, butterfly walks, ponds and wildlife complete the picturesque site," the festival's organisers explain. "The festival appeals to a diverse audience with all ages and many nationalities attracted each year."
Melbourne Food and Wine Festival
Ad. Article continues below.
Food and wine are two major loves in many people's lives – and there's a festival that boasts an abundance of both, so what a great excuse for a short city-break!
The Melbourne Food and Wine Festival takes place every year in March, with pop-up stores and events right across the city. Popular restaurants and bars are taken over, inviting people to try an array of delicious dishes on offer, and it's a great way to celebrate in a lively atmosphere.
The official website explains: "Food and wine lovers in their hundreds and thousands each year indulge in bespoke events that fill Melbourne's labyrinthine network of restaurants, laneways, lights-turned-down basements, dizzying rooftops as well as spilling into spectacular regional Victoria."
A Day on the Green
Ad. Article continues below.
It's been going since 2001 and sees top name performers grace the stage in venues right across Australia and New Zealand. Once dubbed 'The Big Day out for grown ups', the festival's official website says it's "become firmly established as one of Australia's most successful and respected outdoor concert events".
A Day on the Green runs in the summer months from October to March, with around 30 concerts per season in the all major wine-growing regions around Australia. Visitors can bring their own food and drink for a giant picnic together, before watching some of the many acts on offer, as well as sampling all the incredible wines. Robbie Williams and Bryan Adams are among the performers appearing in 2018.
Bluesfest
The popular music festival is held each year over the Easter long weekend in New South Wales' Byron Bay, and it's been going since 1990. Robert Plant, Lionel Ritchie, Sheryl Crow and Melissa Etheridge have joined a huge line-up for this year's festival.
Ad. Article continues below.
The official website says Bluesfest hosts 200 performances across a number of stages over five days. There's camping space for up to 6,000 people, five licensed bars, more than 100 food and market stalls, undercover food courts, beer gardens, and children's entertainment.
In the past, Bluesfest has hosted stars ranging from Bob Dylan to Paul Simon, James Brown, John Legend and BB King.
WOMADelaide
Every year, WOMAD (World of Music, Arts and Dance) takes place in Adelaide's Botanic Park, featuring music, arts and dance performances spread across four days, with competitions and prizes throughout. 
Ad. Article continues below.
The non-profit celebration helps support local creative enterprises through donations.  This year it's running from March 9-12, with brand new artists introduced to the crowds, as well as old favourites. After first taking place in 1992, it's gained real momentum and become a must-see for Aussies everywhere.
Bellingen Fine Music Festival
While it's a much more recent festival, NSW's Bellingen invites not only talented classical musicians every year, but also has performances in jazz, contemporary and world music. Taking place from September 27-30, the four-day celebration is the perfect weekend away to explore regional Australia and the talent it has to offer.
This year's acts haven't yet been revealed but the official site says: "The late Peter Nance, then-president of Camp Creative, a community organisation dedicated to the promotion and development of creativity, founded the Bellingen Fine Music Festival in 2010. The festival has been held annually since then and is now a major and highly anticipated event in the cultural calendar of the NSW Mid-North Coast."
Ad. Article continues below.
Byron Bay Film Festival
Australia's largest regional film festival will run from October 12-21. First established in 2005, it is held at the Byron Community & Cultural Centre in Byron Bay, and combines some of the leading new film ventures with local culture.
"BBFF is a platform for outstanding independent film talent, showcasing a uniquely rich and diverse program of entertaining, inspiring and thought provoking films," the official website says.
If you can't make it to Byron Bay, Filmfest lists the many other film festivals running in cities across Australia in 2018.
Ad. Article continues below.
Mona Foma (or Mofo)
Taking place from January 12 22 this year, MOFO is a three-day summer festival at Hobart's Mona museum, offering music, art, food and more. Curated by the Violent Femmes' bass player Brian Ritchie, it's been going since 2008, and offers guests a completely mixed bag of music each year, as well as the chance to check out the famously eclectic museum.
Which is your favourite Aussie festival? Are you planning to go to any this year?