Fats Domino, the man who helped bring you rock'n'roll, has died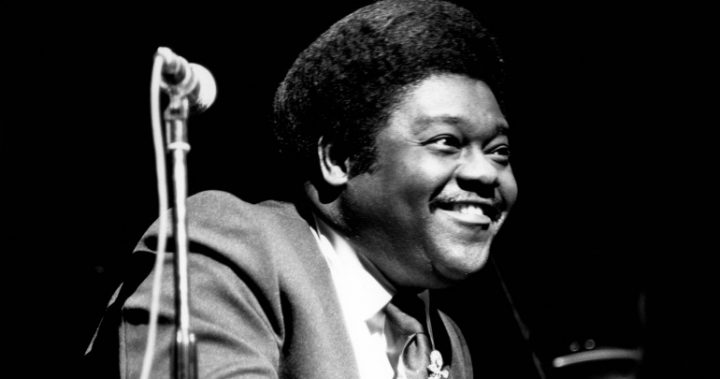 Antoine 'Fats' Domino has died aged 89 at his home in Louisiana of natural causes.
In 1949, the musician and singer made what's often considered one of of the first rock'n'roll records, called The Fat Man, and instrumental in the early rock'n'roll scene of the 1950s and early 1960s.
His hits included 'Ain't That a Shame' and 'Blueberry Hill' and in the 1950s his records were only outsold by those of Elvis Presley, according to Rolling Stone. His songs have been covered by many big names in music, from Led Zeppelin to John Lennon, and he was the inspiration for The Beatles' song 'Lady Madonna'.
He was a legend in his home town of New Orleans in the US, which holds an annual Fats Domino Day and he was inducted into the Rock and Roll Hall of Fame in 1986.
Domino learned to play a guitar early in life after his mother bought him one, and by 14 had left school and was playing piano in bars in New Orleans. But even after fame came, he never lived the rock'n'roll lifestyle, marrying at the age of 20 and going on to have eight children, all of whom were given a first name starting with the letter 'a'.
Ad. Article continues below.
Rolling Stone writer Charles M. Young recalled that Domino was an scandal-free as his public persona suggested.
"Offstage, he gambled a bit, had a thing for fancy cars and jewellery and was known to cook beans in his hotel room," Young said.
He lost all of his old record, and most of his personal possessions, in 2005 in Hurricane Katrina, but stayed relaxed and genial, even after he, wife Rosemary and one of their children were rescued by boat during the storm.
"I ain't missin' nothin'," he said of his destroyed home. Rosemary died in 2008.
Ad. Article continues below.
Stars paid tribute to Domino on Twitter as news of his death spread.
RIP fats domino… you helped pave the way for new orleans piano players… see you on top of that blueberry hill in the sky ❤️??❤️

— Harry Connick Jr (@HarryConnickJR) October 25, 2017
Final gig @UArena tonight #NoFilterTour in #Paris. I'll be thinking of you #FatsDomino ~ God bless you, what a wonderful guy pic.twitter.com/SSOGxO2Ofx

— Ronnie Wood (@ronniewood) October 25, 2017
Ad. Article continues below.
Fats Domino you brought me so many hours of pleasure. Rest In Peace Sir

— Charlie Daniels (@CharlieDaniels) October 25, 2017
I found My Thrill on " Blueberry Hill"! RIP Fats Domino

— Samuel L. Jackson (@SamuelLJackson) October 25, 2017
One of the greatest ever. A true legend. #RIPFatsDomino https://t.co/s2cfbwvJL1

— James Woods (@RealJamesWoods) October 25, 2017
Ad. Article continues below.
R.I.P Fats Domino. What a true legend.

— Boy George (@BoyGeorge) October 25, 2017
Do you remember dancing to any of Fats Domino's hits?