Elton John has a heartfelt message for his beloved Australia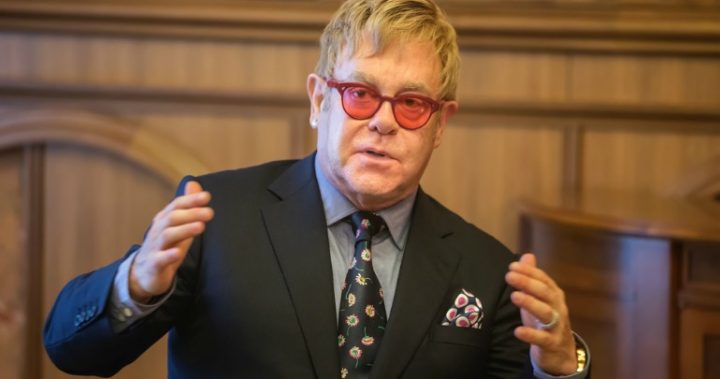 Elton John, on the verge of playing a series of near-sold out shows in Australia, has weighed into Australia's same sex marriage debate, citing his love for Oz and for his husband as his reasons for speaking out.
The superstar singer and musician will kick off his short Aussie tour tonight in Mackay in Queensland, following up with gigs in Cairns, also in Queensland, Wollongong in New South Wales, and Hobart in Perth. They're the only public shows on the tour, and 15,000 people are expected at Friday night's performance. 
Ahead of his tour, John posted a long comment on Instagram that celebrated his love for Australia and expressed his hope that Australians would vote in favour of marriage equality.
"Many years ago, I chose Australia for my wedding to a wonderful woman for whom I have so much love and admiration," the star wrote of his marriage to German sound engineer Renate Blauel on Valentine's Day in 1984.  
"I wanted more than anything to be a good husband, but I denied who I really was, which caused my wife sadness, and caused me huge guilt and regret."
Ad. Article continues below.
Ad. Article continues below.
He went on to say that almost 24 years later, he met David Furnish, and they married in 2014.
"For David and I, being able to openly love and commit to one another, and for that to be recognised and celebrated is what makes life truly worth living," the 70-year-old said.
"I  love Australia. I love its spirit, it's lack of pretence, it's passion," the singer concluded. "I hope it can embrace the honesty and courage that seeks gay marriage as an expression not of desire but of love."
John and Blauel, who married at Darling Point in Sydney, were plagued with speculation that their marriage was a cover for the singer's homosecualilty – he had come out as a bisexual in 1976 – but it wasn't until the couple divorced in 2008 that John said he was "comfortable" with being gay.
Ad. Article continues below.
He met Furnish in 1993, but did not immediately campaign for same-sex marriage, saying in the past that he preferred civil partnerships and becoming one of the first in UK to undertake a civil partnership when they came into force in 2005.
But John later changed his view and helped campaign for same-sex marriage in the UK, saying that "partner is a word that should be reserved for people you play tennis with". Same-sex marriage was introduced in England in 2014.
The couple have two children, both sons born to surrogate mother using donated eggs.
What do you think of Elton John's views on same-sex marriage?