Elton John admits coming 'close to death' prompted him to quit touring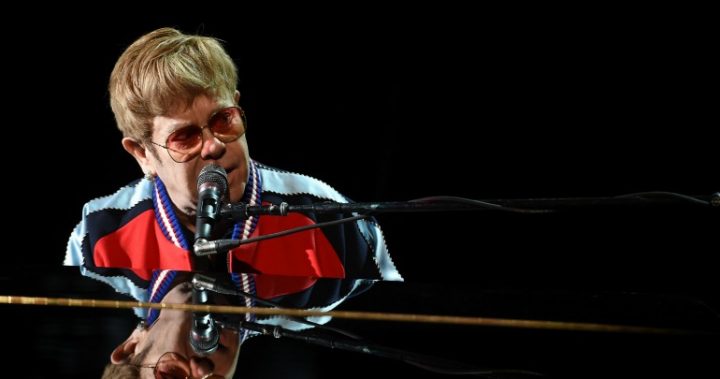 Elton John has revealed a terrifying health scare was behind his decision to quit touring for good.
The singer, 70, announced he was retiring from life on the road just days ago, and now, in an exclusive interview with The Sun, he's admitted coming "close to death" made him realise he wants to prioritise family life more.
He goes on to reveal he fell out with close friend Princess Diana – but they made up just weeks before her tragic death in 1997.
Speaking about his decision to quit touring, John told the site that battling a "rare and potentially deadly" bacterial infection last May was a "wake-up call" to spend more time with his sons Elijah, five and Zachary, seven.
He began feeling unwell on the flight back to the UK from Chile, after appearing there with James Taylor. "I was in intensive care on Thursday and stayed there for two days. I was very, very close to death," he admitted.
Ad. Article continues below.
The star said it took him seven weeks to "get back to normal" and added to the publication: "You think about your mortality and think, "God, I want to spend more time with the boys."
Ad. Article continues below.
He went on to discuss his love for Princes Harry and William, and revealed while he was close friends with their mother Diana, the pair fell out – and only made up just weeks before her death.
John explained they reconciled after the death of their mutual friend Gianni Versace, when Diana rung him and they shared their mutual love. He went on to perform his song 'Candle In The Wind' at her funeral.
It comes days after the star appeared on UK morning show Lorraine, and revealed the first moment Prince Harry revealed he was in love with Meghan Markle.
"I spent some time with him in Sicily last summer and I could tell he was totally in love," he told the show. "He didn't discuss it much, but he said, 'I'm in love'."
Ad. Article continues below.
The married star announced that he would be retiring from touring at an emotional press conference in New York City this week. He will go out with one final bang with a farewell tour.
Read more: Emotional Elton John makes heartbreaking retirement announcement
"I'm not going to be touring anymore," Rolling Stone reports the songwriter telling Anderson Cooper at the conference. "I'm not going to be touring and travelling the world. My priorities have changed. I have young children."
Ad. Article continues below.
His press conference was streamed online and around the world, where he said that fans would still have one final chance to catch a glimpse of him before he turns away from touring. He will be embarking on a lengthy world tour, performing more than 300 shows over a few years. "I don't want to go out with a whimper," he suggested. "I want to go out with a bang. It'll be the most produced, fantastic show I've ever done."
He added that now was the right time to say goodbye to his fans and that he needed to focus on his family and children. His eldest, Zachary, is now seven, while Elijah is five years old. "I'm 71. I can't physically do the travelling anymore. I want to be at home. I really want to spend time with my children at home. I've had an incredible life, but life is all about to change." Still, he promised that it wouldn't be the last fans would hear from him and that he would still be creative.
Are you a fan of Elton John's?
---
Ad. Article continues below.
With Facebook removing news sites from your feeds we ask that you sign up for Starts at 60's emailers here. And to keep us on your wall, join some of our new Facebook groups and clubs:

News Junkies Club – Australia
News Junkies Club – USA 

See news on the change and links to all our other clubs and groups here.