Anna Wintour shows her softer side (and WOW she looks good doing it)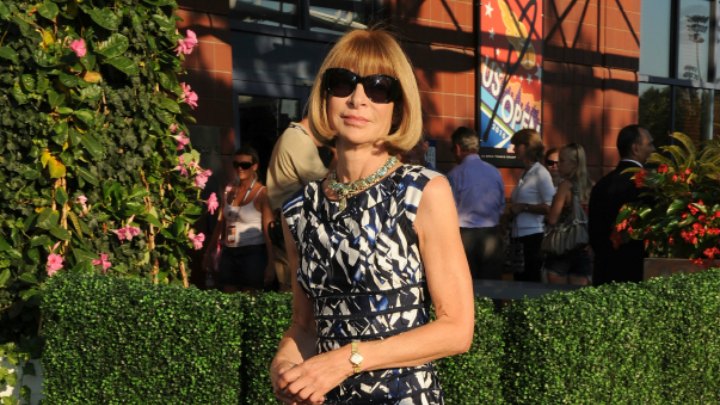 It's not often we catch a smile from Vogue boss Anna Wintour but she flashed a few pearlers yesterday as she attended Wimbledon. She even broke into a Wintour Roar while her favourite tennis player was battling it out on the court.
Mr Wintour wasn't smiling, however, when a security guard nearly knocked her down the stairs, but she certainly seemed to be getting into the spirit of things once safely seated in her chair.
London-born Ms Wintour looked absolutely stunning, as always, with not a hair out of place. But we think the best accessory was her smile, which she shared liberally during the match.
Ad. Article continues below.
The London-born fashionista was also sporting her usual, perfectly coiffed bob as she laughed and joked during the match. We're assuming she was supporting Federer who easily defeated Sam Querry in straight sets.
We're loving Ms Wintour's dress but we're sure we've seen it somewhere before…
Here's Ms Wintour last month at the opening of a new building for the New York foundation God's Love We Deliver, which provides "homecooked" meals for severely ill people. We love the fact she's not above wearing the same dress twice – albeit with different accessories – even though she could probably wear several new outfits a day.
Ad. Article continues below.
The 65-year-old editor-in-chief, a long-time supporter of the foundation, was honoured with the Anna Wintour Volunteer Center. Another feature of the new and improved facility is the Joan Rivers Bakery, in honour of the late comedienne.
What do you think of Anna Wintour's look? And do you think she seems less "Devil wears Prada" these days?