Almost 50 years on, has Mrs Robinson still got what it takes?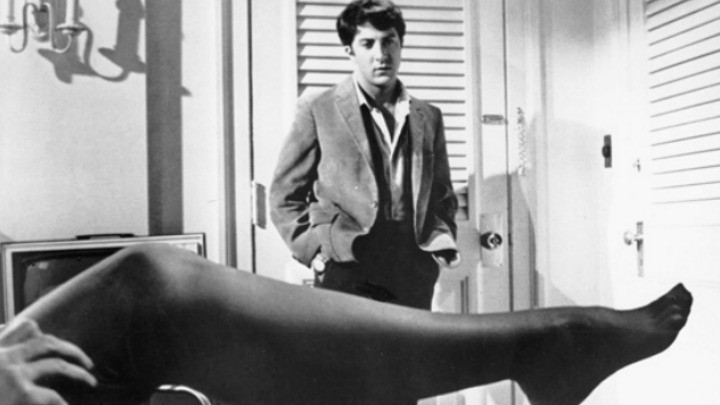 Remember The Graduate film way back in the late 1960s that steamed up our screens? It's the movie that redefined how many of us think about older women with younger men. Anne Bancroft played a housewife who seduces a much younger college graduate played by Dustin Hoffman, with sizzling results.
For many baby boomers who managed to see the film when we were young teenagers, it was one of the first "sexy" films we saw. In an age where Dorris Day and Rock Hudson could barely exchange a chaste kiss, it was a steamy revelation of what sexual attraction between a man and woman could be like.
Almost 50 years on, the stage show hasn't achieved the same cult status as the 1967 Oscar-winning film did but has still managed to introduce "Mrs Robinson" to several new generations.
The role has been played by Jerry Hall in a number of stage productions over the past 15 years, but it seems the model-cum-actor has has decided enough is enough.
Ad. Article continues below.
The Sydney Morning Herald reports that Hall, now 59,  has announced that a production in Sydney next year will be the final one in which she plays the sizzling seductress.
Hall was one of the actresses who took over from Kathleen Turner in the original stage production in London's West End in 2000, attracting headlines with a nude scene.
Surprisingly though, given the nude scene and the sizzling chemistry of the original production, some versions of the stage show have not been a hit with theatre-goers or reviewers.
Even the great and now  late Wendy Hughes played the role in a Sydney production that was a box office disappointment, closing three weeks ahead of schedule, in 2001.
Ad. Article continues below.
So what's the reason? Is the plot and dialogue just a bit tired and ho-hum nowadays? The jokes too cheesy, as one reviewer said. Or has it just been impossible to recapture the magnetism of that sizzling on-screen relationship of Anne Bancroft and Dustin Hoffman?
What are your memories of the movie? How old were you when you first saw it and what impact did it have on you? Have you ever seen the stage show?