All the Light We Cannot See: Revisiting a modern classic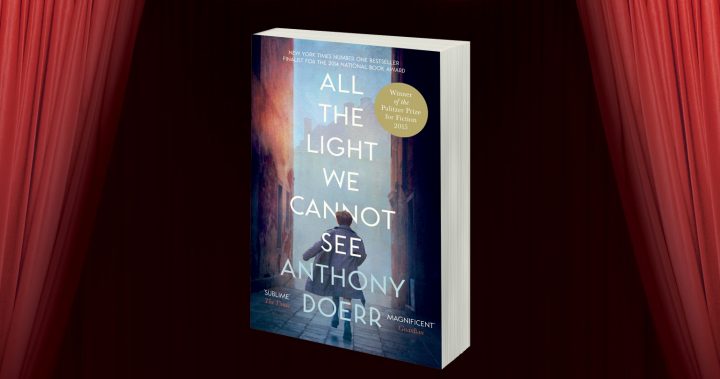 This year Australian readers declared All The Light We Cannot See their all-time favourite book, voting it #1 on Dymocks' annual Top 101 poll. Starts at 60 will be showcasing this wonderful story throughout the month of June.
Anthony Doerr's novel means many different things to many different people. Following our community reviews from Fran and Vivienne, Books at 60 reviewer John shares his own thoughts…
I doubt there has ever been, nor will ever be, a perfect book written on the subject of the Second World War. There are so many different facets to the destructive evil that overran the world for six long years and took the lives of perhaps 60 million people, thus making it impossible to decide where to start, and on which topic.
Even so, there are a number of classics, both fact and fiction. Sixty years ago, I remember reading the Paul Brickhill books, all superbly written, although one in particular, The Dam Busters, remains foremost in my mind. In more recent times, perhaps the best fiction was Atonement, by that latter-day master of the English language, Ian McEwan.
I have now added another to the list.
Ad. Article continues below.
All The Light We Cannot See by Anthony Doerr is right up there with the best of them. It is the story of a French girl who went blind at an early age and a German boy who is an electronics genius, two people whose life paths ought never to have crossed, but did. The book's structure and development are exceptional, effectively placing the reader in those fraught times. Despite being a bit longish, the book at no time loses its pace. This, in part, is due to chapters kept short, sharp and alternating aspects.
Marie-Laure loses her eyesight to cataracts by age six but her father, Daniel, a skilled artisan, constructs a scale wooden model of their Paris neighbourhood, teaching her to find her way unsighted. Meanwhile, a young German, Werner, finds and resurrects an old radio that allows him to listen to science broadcasts. He is told he will be sent to work in a coal mine, but when he repairs a radio for a German official he is given the chance instead to attend a Nazi school.
Marie-Laure and her father evacuate Paris, going to live with an uncle at Saint- Malo. Again, the father constructs a scale model to enable his daughter to find her way safely around. Werner furthers his education in mathematics and science, and becomes adept at triangulating sources of radio signals.
All The Light We Cannot See is a story with, at its heart, two main characters, Marie-Laure and Werner. It is greatly circumstantial, but that's fine in itself; it is the author's intent and, anyway, isn't life itself frequently more than a little coincidental? There is also a third major character, this one inanimate: a huge gemstone known as The Sea Of Flames. Not surprisingly, there are a number of people with an interest in its security and its location.
Ad. Article continues below.
Anthony Doerr has woven an entirely credible story while, at the same time, relating an oft-overlooked aspect of the Second World War, the Allied attack on Saint-Malo.  There was a mistaken belief, especially among the Americans, that it held a garrison of German soldiers. The town's bombardment was the catalyst that brought his book to fruition.
A work of fiction that draws us close to its young heroes – Werner's conscience guides him, while I found myself at times thinking of Marie-Laure as a younger Nancy Wake – All The Light We Cannot See is one a book I will certainly read again… and perhaps again.   
All the Light We Cannot See by Anthony Doerr (published by HarperCollins Australia) is available now. Click here to learn more.