Adele makes huge Australian announcement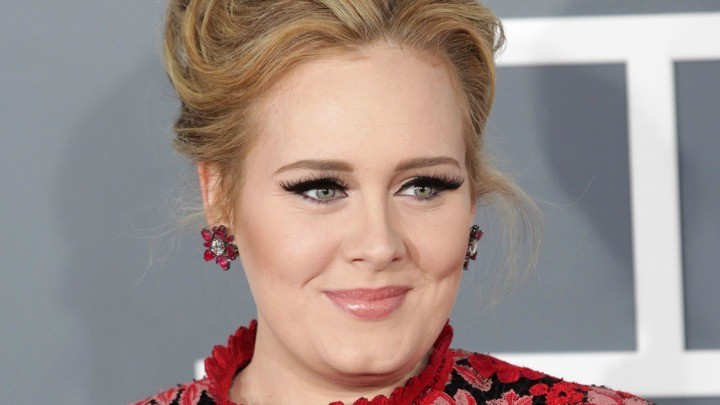 If you love Adele, then you'll love the clever way she has announced her Australian tour.
That's right, the British superstar is coming to Australia next year with her hits including Hello, Someone Like You and Rolling in the Deep.
The singer announced the tour with a cheeky handwritten note on Twitter this morning, tying in the lyrics of her song Hello.
"G'day it's me…. I was wondering if after 10 years in this game you'd finally like to meet me in: Brisbane, Sydney, Perth, Melbourne and Adelaide?" she wrote.
"Yep! I am coming down under."
Ad. Article continues below.
"In the Round, outdoors and upgrading myself to stadiums to make sure I get to see as many of you as possible."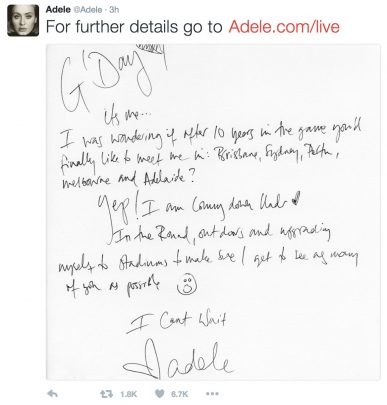 It's the first time Adele is coming Down Under since her debut album 10 years ago.
Ad. Article continues below.
So, where and when is she performing?
Well, Adele will kickstart her tour on February 28 at Domain Stadium in Perth.
She will then perform in Brisbane at The Gabba on March 4, ANZ Stadium in Sydney on March 10, Adelaide Oval in Adelaide on March 13 and finish up in Melbourne at Etihad Stadium on March 18.
And the good news is tickets go on sale on Monday!
The release of the tickets will be staggered, with Brisbane and Melbourne able to buy tickets at 10am (local time) followed by Sydney at 12pm, Adelaide at 2pm and Perth at 10am.
Ad. Article continues below.
If you're worried about the tickets costing a fortune, don't be.
According to the Sydney Morning Herald, tickets will start at around $100 each ranging up to $300 for the best view – varying city by city.
Already the tour has been seen by 1.3 million people around the world, earning the singer more than $186 million in ticket sales.
Will you be buying tickets to see Adele in concert? Are you a fan?