A visual feast celebrating Paris, the City of Light
Sponsored Content
Books
12 months ago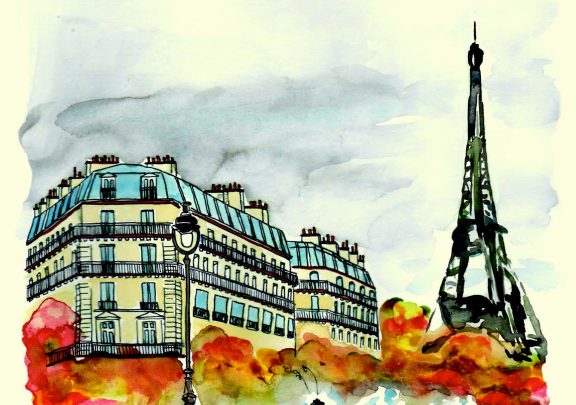 I fell in love with this book the minute it arrived. From the hardback cover to the glossy and colourful pages inside, it is just a truly beautiful book. A Paris Year by Janice MacLeod has been described as "part memoir and part visual journey" as the author allows us to accompany her on "my day to day adventures in the most romantic city in the world".
A Paris Year follows her highly successful Paris Letters, and in this truly stunning visual banquet, we follow her through her day to day life in the city of light. There is a page for nearly every day of the year, and each day is a snapshot of cafes, museums and wandering the cobbled streets and leafy parks whilst observing the people around her.
What makes this book special, is that according to the French calendar, every day is a saint's day, so each day of the month is dedicated to a particular saint. The book also follows the four seasons and has beautiful photographs, quaint and quirky sketches and blocks of watercolour from her artist's palette enhance each page. In fact, each page could be framed as an individual art work by itself. She also includes wonderful snippets and quotes from the numerous artists and writers who graced the streets of Paris.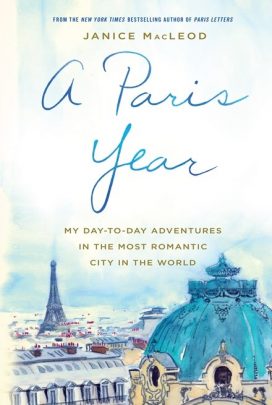 We hear from Ernest Hemingway's A Moveable Feast, quotes from Gertrude Stein, Julia Child and more. Historical characters like Napoleon and dates also grace the pages in a unique and quirky style – all enhanced by the soft pastel hues of each season. We accompany her to historical landmarks and hear a little about them. We read cafe menus, discuss the wearing of berets and luxuriate in the sweetness of the macaron.
This is the sort of book you can treasure. I love it so much I have ordered one for my sister's birthday. You can read a page at a time, or curl up and read through several months. Canadian by birth, Janice Macleod's warm and funny writing style envelopes the reader as we accompany her on her own story. Janice now lives in Paris, after meeting the handsome Frenchman, Christophe and then becoming a mother. She is more than a tourist, she is a resident and the relationships she builds with the locals thread throughout the book bringing a coherence that shows she is accepted as one of them. It is a joy to read a book that has no cynicism or authorial sneers. Janice is an honest observer but never negative. I found this refreshing.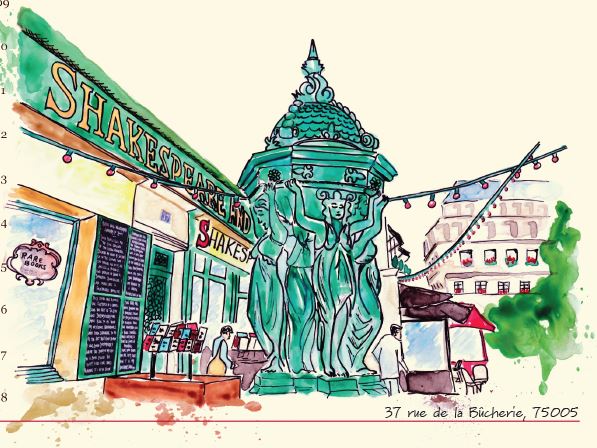 Any writer who can go into a cafe to read and write whilst enjoying a coffee or a croissant has my interest. This is more than a tourist manual, it is a year long celebration of how the many changing colours of this beautiful city can be reflected in this delicious little memoir. In a world shaken by terrorism and other threats, there is something simple and perfect about this book. It is the Paris we love. The dream, the smells and the colours of romance and history. Janice is a sympathetic observer, treading lightly through the city and absorbing the unique charm and beauty of the place. Her delicate watercolours, almost translucent at times grace her wonderful little sketches. Her photographs convey a sense of atmosphere, and when you really absorb yourself in the page, you can see that both the words and colours convey their own story.
As you can tell, I adored A Paris Year by Janice MacLeod. Sometimes we need a gentle and joyful book to dip into when we have had enough of the savagery that the world can bring. This book reminds me that Paris is as resilient as she is beautiful. That she is full of wonderful people to meet and places to visit. She is full of the ghosts of painters, poets and writers whose names are still embossed on the walls of the houses that they lived in. She is full of cafes where waiters sit you down with a flourish of a perfectly white linen serviette and a red scooter will sit next to a red Renault on the cobbled footpath.
It is the Paris of autumn leaves, winter chill and summer heat. It is the Paris of spring blossoms and wonderful food. Of the baguette and the beret. It is the Paris of the past, present and future. I highly recommend this wonderful book, once you have it, you won't be letting anyone borrow it for long. It is just too special. Read it and love it.
With sincere thanks to the publisher, you can discover a little of A Paris Year by reading an extract here.
A Paris Year by Janice MacLeod (published by Hachette Australia) is available now from Dymocks. Click here to learn more.