A thriller ripped straight from today's terror-charged headlines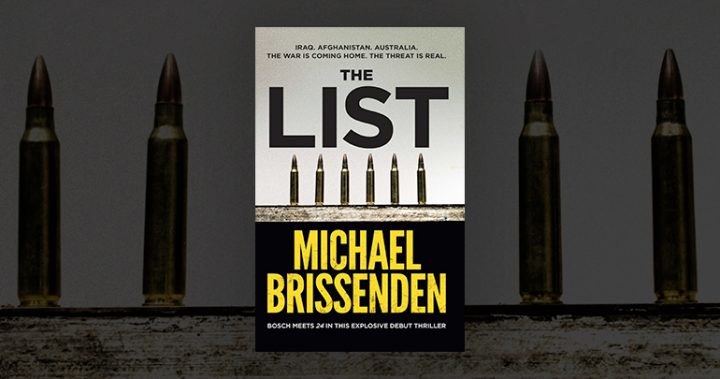 For many years one of my favourite political reporters, knowing he's written a book on a subject he knows so well, international affairs, I put up my hand for a review copy. The book arrived a few days ago and I've read it. What's it like? Does his experience show through? Is it up to my expectations? I guess it's more than time to tell you…
Michael Brissenden has a thirty-year career as an ABC political journalist, producer and foreign correspondent, with overseas postings to Moscow, Washington, Brussels, New York (to report on 9/11) and others, as well as covering conflicts in Chechnya, the Balkans and Iraq. Beyond that, he has done a lot of writing, not least his book on hopes, fears and expectations for Barack Obama as the first black US President, American Stories: Tales of Hope and Anger (available through Dymocks). On this latest occasion, Brisso has turned his hand to writing a thriller, The List.
The prologue describes the chilling reality of being ambushed while on patrol in Humvees and Bushmasters in Afghanistan. In no way can such circumstance be described as one of life's preferred situations. Mick Harrison is the sole survivor of initial bloody attack and allowed to live, but only after his right hand is hacked off by a blow from a tomahawk. He is certain the black clad jihadi with a flowing black beard is Australian.
We enter the book proper and meet Federal officers Sid Allen and Haifa Hourani in Sydney. They attend a crime scene in Auburn. The Jamal Tara barber shop looks like any of the other humble little businesses that line Auburn Road, except this one has a man's body slumped in the chair, a bullet hole in the left temple. In short order, there are four murders, all similar in style, most victims having their right hand hacked off.
Ad. Article continues below.
Sid sits and talks with AJ. A one-time journalist and private investigator, she is now head of the AFP K-Block. Although this is a novel, Michael Brissenden's likely understanding of the environs now becomes frightening. In AJ's words, "The spooks confirmed… the same weapon and bullets were used on all four victims. The West is swimming in Glocks from Marrickville to Cabramatta… this guy's using an H&K MP5 variant." Sid asks, "Special forces?" and AJ responds, "Exactly."
We are taken through investigations, a trip to ASIO headquarters in Canberra, a number of reasonably balancing discussions on Muslims within the Australian community, including a fiery television debate, meet a hero who took one tour of duty too many and who now sleeps in his Commodore wagon. We spend a lot of time with our Anglo-Australian and Muslim-Australian investigators, but it must be said neither is especially convincing. As they investigate the killing of people on an ASIO terror watch list, including a deep cover agent, Mohamed Jilal, it would be nice to feel some sort of association with them. This does not happen.
I must admit this is not a preferred reading category but I thought because it was 'Brisso', it might be just that bit better. The List is well written by a man who has a great understanding of his subject; it is easy reading and should do well with those who enjoy the genre but, in all honesty, I preferred his earlier book, the factual American Stories. Perhaps it will all come together in the next one.
The List by Michael Brissenden (published by Hachette Australia) is available from Dymocks. Click here to learn more.
Books at 60 is proudly sponsored by Hachette Australia. Opinions are the reviewer's own.