A selfie with KK... does it really outshine one with Redford?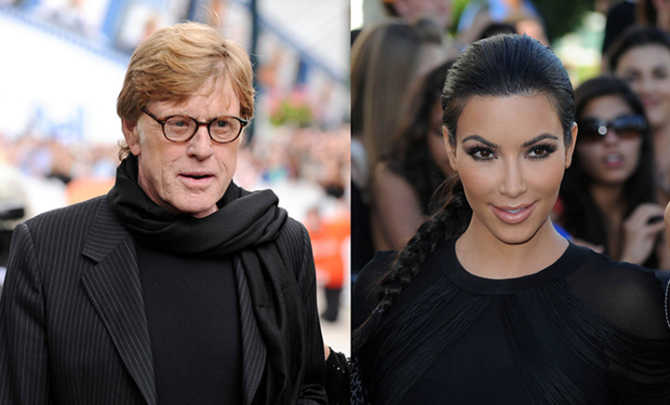 Robert Redford and Kim Kardashian crossed paths this week in a Sydney Restaurant, somewhere in the depths of Bondi and for the media and the general public it was a strange and sad moment… They appear to have chosen pop value over enormous credibility and history for their selfie and news-hunting flavour, chasing Kim Kardashian so hard they scared the living legend Redford from the restaurant. So today I want to know who you would have taken a selfie with if you were thronging that restaurant… Kim Kardashian or Robert Redford?
According to the Sydney Morning Herald Celebrity pages, a 78 year old Robert Redford was sitting at the back of the restaurant enjoying a high quality Sydney dining experience when Kardashian and her circus entered the establishment. With her can an entourage of security guards, publicists and paparazzi as well as hundreds of fans wielding mobile phone cameras who were trying to get a snap of the star – selfie style with themselves in the foreground. All for a woman who is famous for… remind me again? Was it holding Paris Hilton's handbag or a sex tape… I've forgotten?
But when you stop and count the credibility, legacy and awesomeness of stars it leaves me in no doubt of who they should have been chasing that night. With more than 60 years of career, two academy awards, an amazing back catalogue of films, charity contributions and influential awards, Redford is inspiring. In fact, he is much more inspiring than Kardashian in my humble opinion, who is most recently famous for her photo that "broke the Internet" of her fully-nude body, all greased up, with a champagne glass on the shelf she calls "Booty".
Ad. Article continues below.
Redford knows his brand wields power, using it to support major American causes like the environment and native people's rights… Kim knows hers wields power, most recently claiming that she hopes her recent photo shoot inspires women to "put their best foot forward."
Perhaps Redford was never famous like Kardashian is… perhaps he'd be pleased to hear us say that. But I know who I would have wanted a selfie with in that restaurant in Bondi this week… Share your thoughts on this moment in time and how you feel about the two stars, side by side.
Below: Kim arriving at Bondi Icebergs this week
Robert Redford at a press conference earlier this year (no one even got a pic of him at Icebergs)