7 ways to make your phone or tablet more accessible and easy to use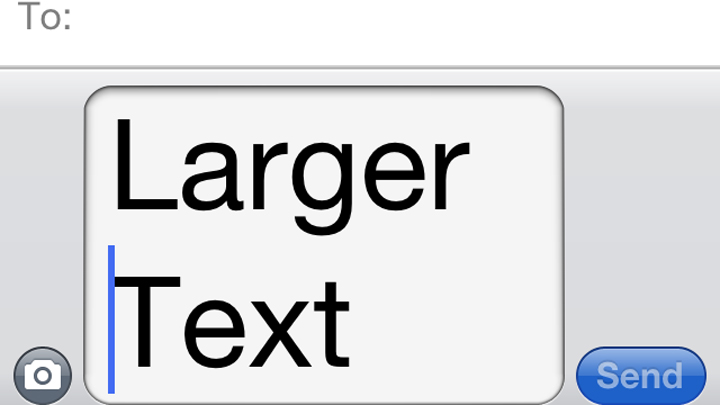 Let's face it: not everyone is able to breeze through a phone or tablet with ease. Sometimes it can be hard to read the small text or hear a video, or even press the buttons correctly.
But you don't have to worry – there are ways to make your smart device more accessible and fit in with your life.
Here's how to make your device much easier to use, whether you have visual, hearing or motor impairments, there are heaps of helpful tips for you to try.
Features that can be adjusted
Ad. Article continues below.
1. Change text size and boldness
iOS – go to Settings, Display & Brightness, and adjust Text Size and turn Bold Text on. When you apply bold text you will need to restart your phone and when it turns on, all text will appear bolder and easier to read.
Android – go to Settings, Display & Brightness and Text Size and choose size (small, normal, large or huge). Unfortunately there's no "bold" option for text on Android phones though Android devices running the new Lollipop update have an experimental setting called "high-contrast". This adds a distinctive outline around some on-screen text.
2. VoiceOver assistance
This is a great feature for those who struggle with small text. Simply go to Settings, General, Accessibility, VoiceOver and switch it to On. Once it is activated, when you tap a button, its name is read out and you can then double-tap to select the item. You might need to slow down the speed at which the voice talks using the slider.
3. Magnify Text
Ad. Article continues below.
iOS – within the Accessibility screen, select Zoom and turn the slider On. A translucent box will appear and you can drag it around the screen to magnify the text.
Android – Settings, Accessibility, Magnification gesture then flip the switch.
4. Switch to black background
If your eyes are getting tired from looking at the white background screen, you can also swap it to a black background.
iOS – go to Accessibility and select invert colours.
Android (Lollipop users only) – go to Settings, Accessibility and then switch labeled colour version.
5. Read out loud
Go to Settings, Accessibility, Speech and then turn Speak Selection on. Every time you select text, there will be a Speak option and you can tap to have the selected word read out. There are also other options like Speak Screen or Speak Auto-Text that will read the page out loud.
Ad. Article continues below.
6. Button shapes
Go to Settings, Accessibility, Button Shapes and turn on. This adds an outline to any button t0 make it stand out on the page.
7. Remove motion effects (iOS only)
The parallax effect is a combination of motion-controlled visuals that gives the display the illusion of depth but if you find this confusing, you can switch it off. On an iOS  device follow these prompts: Settings, General, Accessibility, and Reduce Motion and flip the switch.
Ad. Article continues below.
Other helpful apps and tips for you!
Android users
Talkback, Kickback and Soundback all offer non-visual feedback and likely come preinstalled on your phone but need to be enabled. Simply go to your Settings, Accessibility, and then Enable Accessibility for any or all of the options.
Another option is to download and install Apps4Android Accessibility Installer. To do this, search "access 4 ideal" in the Android Market and select the package that is right for your carrier. There are a broad range of available apps that will assist you, such as Eye-Free Shell or IDEAL Item Identifier.
Ad. Article continues below.
Wiser is another Android Launcher that uses a combination of big, bright buttons and simplified notifications that is perfect for less confident smartphone converts. After installing it, you'll need to set it as your default launcher for the device and grant it permission to access notifications.
Finally, try out BIG Launcher that uses large, high-contrast icons that helps to guide users through common tasks.
Tell us, did you find this article helpful? Will you try adjusting your settings on your device?