35 of Bill Cosby's victims show bravery on the cover of New York Magazine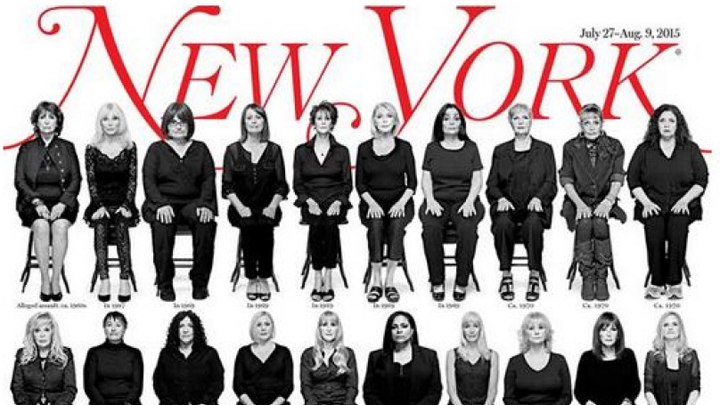 Since the very first time that Bill Cosby's true nature was revealed, there have been many women feeding through their story, one by one. And now, 35 of those victims have come forward and been photographed for a truly haunting cover of New York magazine.
It's gone from bad to worse for the once revered comedian, but now Bill Cosby's name couldn't be more tarnished. From his former friends wanting their names taken out of his book, to cancellations of shows and appearances, those are the least of his problems.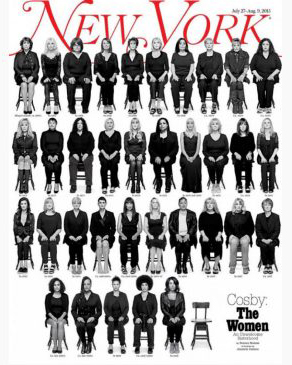 For his alleged victims, his silence is earth shatteringly loud, but they won't stop until everyone in the world knows just how callous and devious this man was. And how much he didn't want their story to be heard, or them to be seen.
"The group of women Cosby allegedly assaulted functions almost as a longitudinal study – both for how an individual woman, on her own, deals with such trauma over the decades and for how the culture at large has grappled with rape over the same time period," the magazine wrote.
Ad. Article continues below.
"In the '60s, when the first alleged assault by Cosby occurred, rape was considered to be something violent committed by a stranger … But among younger women, and particularly online, there is a strong sense now that speaking up is the only thing to do, that a woman claiming her own victimhood is more powerful than any other weapon in the fight against rape".
One of his accusers, Lili Bernard told the magazine, "In the early 1990s, in my mid-20s, Bill Cosby mentored me. He gained my total trust and then he drugged me without my knowledge. He raped me. I wouldn't call him crazy … I felt that he was very much in control of his behaviour".
As of yet, Cosby has not been charged with a crime, however in a 2005 court transcript, he was recorded as saying he intended to give Quaaludes to young women with whom he wanted to have sex.
In his own defence, at the time, he said, "I'm a pretty decent reader of people and their emotions in these romantic sexual things, whatever you want to call them".
What's more upsetting to his accusers is that for years, Hollywood and just about everyone in entertainment tried to cover up Cosby's terrible secret. Even 10 years ago, he could have been charged, but the case was settled and forgotten. Everyone refused to believe the eccentric, loveable man on their TVs was doing unimaginable things behind the scenes.
Ad. Article continues below.
According to NY Mag, The National Enquirer had planned to run a big story detailing one of the women's accounts, but the magazine pulled it when Cosby agreed to give them a two-page exclusive telling his side.
So now it's the world's turn to listen to these women.
Tell us, are you becoming jaded by the previously hidden criminal behaviour of some of the world's biggest stars? Is it time Bill Cosby handed himself in for what he has allegedly done?