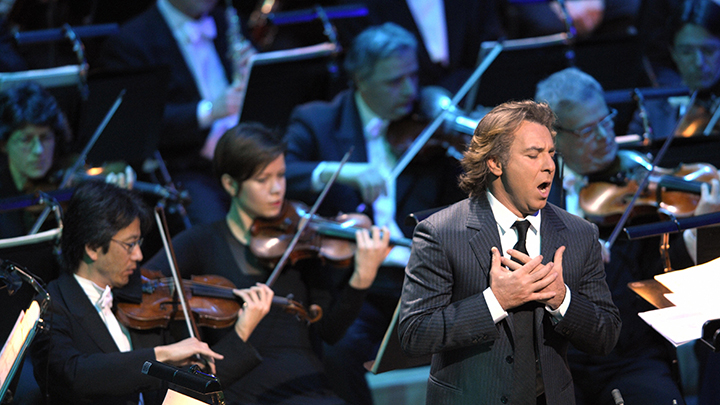 The magnificent operatic tenor Roberto Alagna is about to begin his first-ever tour of Australia.
Hailed as one of the greatest voices of his generation – even "a natural successor to Pavarotti" – Alagna's voice is powerful, spine-tingling and full of sincere passion. In person, it's nothing short of a transcendent experience.
With the performance running one night only in each city, this is a once-in-a-lifetime chance to see a true artist at the pinnacle of his talents. Click here to learn more.
To celebrate, we have a truly special prize to share with three lucky Starts at 60 community members: a chance to not only see him in concert from spectacular VIP seats, but meet this utterly enchanting man in person afterwards!
Show Dates
• Sydney on July 21
• Melbourne July 27
• Brisbane July 30
Read on for your chance to win, or click here to book tickets!
Enter the code PASSION at checkout to get 30% off A-Reserve seats!
Unlike many other tenors, Alagna has a diverse background in cabaret, giving him a voice that can cross the boundaries into many other styles and genres. As well as performing some of the great operatic arias, he will sing popular Neapolitan classics such as 'O' Sole Mio' (It's Now Or Never); 'Torna o Surriento' (Surrender), made legendary by the King, Elvis Presley and the great Tom Jones; and 'Dicitencello Vuie' (Just Say I Love Her) made famous by Dean Martin – this is truly crossover at its best!
Alagna shot to stardom with the blessings of Pavarotti himself. As a young man in 1988, he was invited by the legendary singer to perform at the Luciano Pavarotti International Competition. After just a few seconds, Pavarotti stopped him.
At first the young singer was distraught. But Mrs. Pavarotti later approached him, explained that her husband enjoyed the performance very much, and brought over the great man.
He told Pavarotti he was only there to find a teacher, not to complete. "No, stay with your teacher," Pavarotti replied. "He is very good for you".
"When I told my teacher, he started to cry," Roberto told Cut Common. "It was a wonderful moment."
Now we can finally hear this beautiful voice for ourselves. 
Sydney, Melbourne and Brisbane readers have the chance to win one of 3 Meet & Greet Function Package double passes (one double pass per city), each valued at up to $1,190! Simply fill out the form below to enter!
Please note: winners must arrange their own transport and accommodation.
Comments