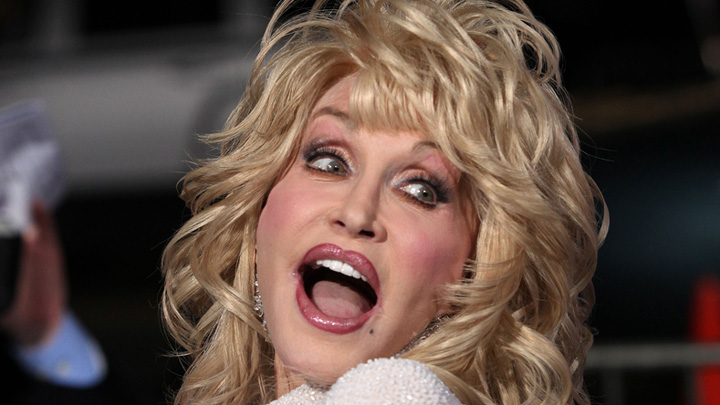 Dolly Parton has hit the red carpet in an amazing multi-coloured outfit at the premiere of her TV special "Dolly Parton's Coat of Many Colors".
The film, set in 1955 in the Tennessee Great Smoky Mountains, "a family-oriented faith-based story", NBC said, and not a musical like fans speculated.
"It's very emotional, very personal to us and I think it's time that we put it out because I think on TV we are missing a few things about family and faith, so it just seemed to be the right time," Dolly said on Wednesday, reports Reuters.
"I ain't getting no younger and I wanted to live to see this movie on screen, so I was very proud the way that it turned out."
Dolly looks every part the radiant star at the premiere, and gushed about the NBC telemovie that shows her journey from poverty to superstardom.
"It's too emotional to watch with a bunch of people because we lose our eyelashes – we wear a lot of makeup," said Dolly about her and her sister watching the movie. "We cried our eyes out."
"It brought us back together as family and made us miss mama and daddy a lot," added the 69-year-old. "They're gone now, but we get a chance to see our brothers and sisters again and when we were little, and think of mama and daddy and all that they meant to us".
"People get the chance to see me as a little girl," she said. "Little Aly Lind, she did so great. I never was that pretty or that cute or that special, but she did a great job". Aw!
'Coat of Many Colors' is only the first in a series of TV movies that the award-winning singer will produce for NBC based on her life, stories and songs.
"We might do a few pieces like [Coat of Many Colors] … We might do bits and pieces of my life story," she explains. "But I'm still very involved in my musical on Broadway, my story. So that's separate and different. But there's also the possibility that we might do a feature film".
"Lord, I've lived so long. I've got a lot of stories to tell," Parton says. "I can't tell them all at once, so I'll just scatter them all out, but I'll still work on the musical".
We're very excited for that!
Check out Dolly Parton looking fab at the premiere below:
Comments