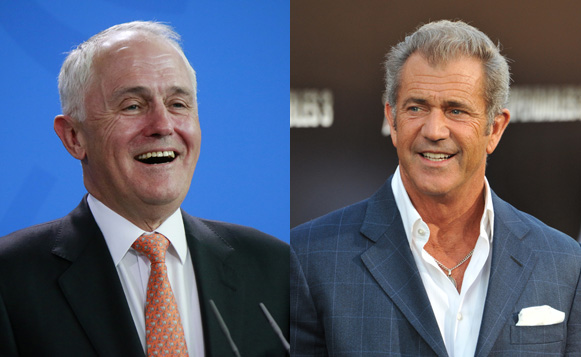 Yesterday afternoon, an unlikely pair of men came together. Malcolm Turnbull and Mel Gibson looked like firm friends upon their meeting, as they opened a new graduate school at the National Institute for Dramatic Art, where Gibson once studied.
Clearly star struck, the PM gushed "You look fabulous" to the 59-year-old actor. They both reportedly exchanged compliments about how fit and great they looked.
Mr Turnbull gave a rousing speech to a packed auditorium and declared that "culture is at the very essence of who we are".
"Telling stories, describing ourselves, imagining ourselves, dreaming about the selves we'd like to be … that is as human as eating and drinking," he said.
"Culture is important," he said. "Culture is the very essence of who we are. How we express ourselves, how our actors portray us, how our writers describe us, how our musicians capture our very soul. All of that makes us the ­nation that we are.
"A nation without a story, a ­nation without a song, a nation without an ability to portray itself, to mock itself, to idealise itself, to exaggerate itself, would not be a nation at all."
Mel Gibson then took to the stage and spoke of his time at the Australian performing arts institution during the mid 70s.
"We didn't have these facilities, we had to imagine these facilities. That was an acting exercise all in itself," he said, reports The Australian.
"Now you've got to know what you're doing to come here. They've got stuff to do. You've got to know what you're doing. I had no idea what I was doing."
It's hard to believe considering the success Gibson has had since graduating – Mad Max being one of the films NIDA students would know him for.
He's in the country also to direct the World War II drama Hacksaw Ridge, reports SMH.
Tell us, would you watch the Mal and Mel Show? Do you think they make a good pair of mates or was it all a media exercise?
Comments