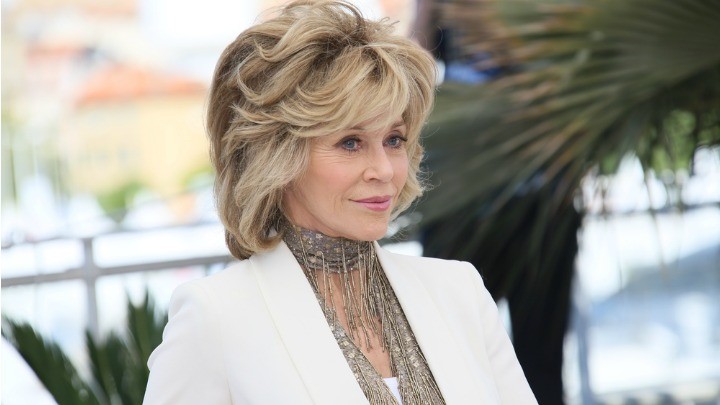 Jane Fonda has never been one to shy away from doing things differently and in recent days the Grace and Frankie star has made a couple of bold statements, both involving a specific body part.
The former exercise-video queen was at the Los Angeles LGBT Centre Gala with her best friend Lily Tomlin, where she was honoured with the centre's prestigious Vanguard Award in recognition for her decades of activism and projects that have impacted the LGBT community.
Larking about on the red carpet with fellow-honouree Miley Cyrus (daughter of Billy Ray Cyrus of Achy Breaky Heart fame), Ms Fonda planted a kiss on the young singer's bare tummy, leaving behind a lipstick mark that young Ms Cyrus wore with great pride.
Ms Fonda was introduced by Lily Tomlin and spoke with passion about the similarities between her lifelong work for women's rights and the struggles of the LGBT community for equal rights.
"None of us can rest on our victory laurels. We have to pay vigilant attention to each other's movements and struggles. We have to learn from each other's mistakes as well as victories. We have to support each other. We have the same opponents. We're in this together. And one thing that we can all do is to support the passage of an equal rights amendment the will ban discrimination based on gender, sexual preference and sexual identity once and for all," she said.
Ms Fonda earlier in the week wore a revealing white number that showed off her fishnet body stocking, underwear and tummy at the 16th Annual Hollywood Film Awards, where she picked up a Supporting Actress award for her role in the upcoming film Youth. 
We're not sure exactly what statement Ms Fonda is trying to make with this look, but you have to ten point for bravery and ten points for good form, considering she's 77!
The new season of Grace and Frankie is currently filming – are you looking forward to it?
Share your thoughts: are you a Jane Fonda fan? What do you think of her tummy antics? 
Comments