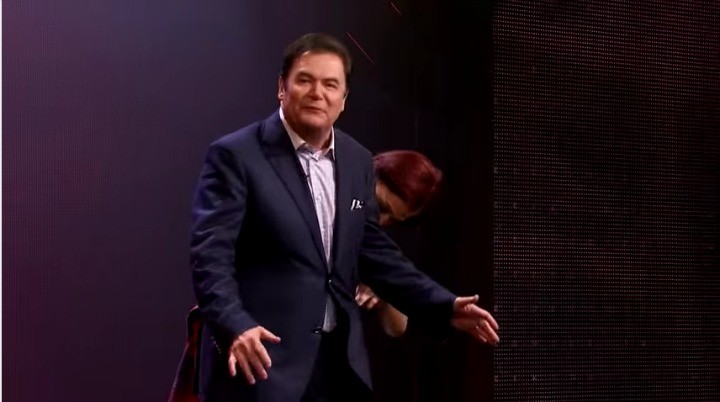 It's been hailed as Daryl Somer's comeback hit, but viewers who tuned in to watch You're Back In The Room last night were less than impressed with what they saw.
The show is supposed to be a funny and light-hearted hour of entertainment, where volunteers are hypnotised on stage in front of a live audience and told to do ridiculous activities to compete for money.
Despite the cruel comments, the show was actually a ratings hit with 2 million people tuning in at its peak.
Daryl has largely been missing from our screens since his popular show Hey, hey it's Saturday wrapped up, with many fans hoping this would be his big breakthrough back into the industry.
If the ratings from the first episode are anything to go by, Daryl will be around for a little while yet.
However, the real test till come next week when we'll find out if people will return for round two after the "train wreck" first episode.
I didn't expect much more, but this is the worst thing I have ever seen on tv #yourebackintheroom

— Matt Tarrant (@MattTarrant) April 3, 2016
There's 38 mins of my life I'll never get back. Switching off #YoureBackInTheRoom

— Melanie Usher (@mjgal) April 3, 2016
The hypnotism in that new Daryl Somers show is so real it made me believe I was watching the worst tv show ever #yourebackintheroom

— lehmo (@lehmo23) April 3, 2016
Approx 7 people on Twitter think #yourebackintheroom is hilarious. I think they're all Channel 9 employees.

— Sonia Cuff (@Cuff_S) April 3, 2016
If you want to watch one hell of a flaming Daryl Somers hosted train wreck tune into #yourebackintheroom right now pic.twitter.com/olmUgSrwYK

— Luke Buckmaster (@lukebuckmaster) April 3, 2016
#YBITR #yourebackintheroom is on. The best room to get back in now is one without a telly.

— Ken Barlow (@I_am_KenBarlow) April 2, 2016
…..and you're back in the bin #yourebackintheroom

— 40 Watt Pearl (@chrisaronsten) April 3, 2016
Did you watch this show? Are you a fan of Daryl Somers?
Comments