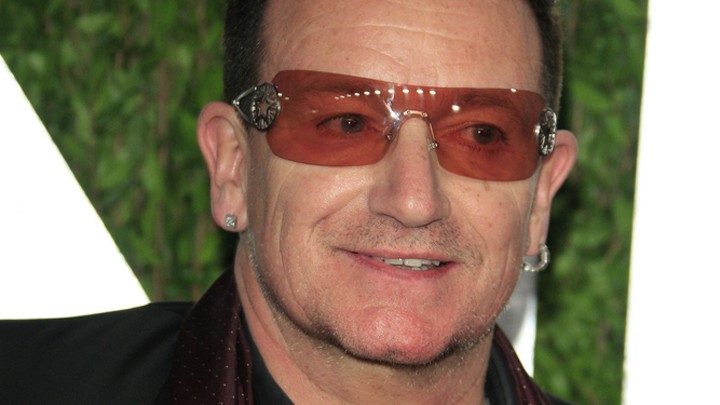 At this point, we'll take any idea. U2's frontman Bono has announced he thinks comedy should be used to fight ISIS.
The interesting suggestion isn't that unusual considering comedy has long been used as light relief for soldiers fighting in the Middle East.
In testimony before a US Senate subcommittee at Capitol Hill, the Irish musician called on members to deal with the global refugee crisis and terrorism head on, using a bit of humour.
'It's like, you speak violence, you speak their language. But you laugh at them when they are goose-stepping down the street and it takes away their power,' he said, reports Sky News.
'So I am suggesting that the Senate send in Amy Schumer and Chris Rock and Sacha Baron Cohen, thank you'.
And Bono may be taken seriously considering the success he has had in assisting foreign aid and fostering peace. The singer for one of the world's biggest bands co-founded the anti-poverty ONE Campaign.
During his testimony, Bono discussed how that issue is tied to the Syrian refugee crisis and other refugee crises occurring in Africa.
"It's one of the things that I know we're looking at," Shaheen reassured him.
NBC News counterterrorism analyst Laith Alkhouri, of the global security firm Flashpoint Intelligence, said it may not be a good idea.
"ISIS does not do comedy and will likely not take well to comedy as a form of combating its activities or as a counter-message."
Alkhouri also warned that comedians who make ISIS a punchline could end up being targeted by the terrorist organisation.
Alkhouri said despite comedy shows being a little on the nose, celebrities can and should play an active role. "They have the money, the followers, the power, and the networking," he told MSNBC. "Funding grassroots program to counter ISIS's ideology, in cahoots with security experts, might be worth their money and time."
Bono also had another idea for combating violence and extremism: 'When aid is structured properly, with a focus on fighting poverty and improving governance, it could just be the best bulwark we have against the extremism of our age,' Bono said.
'This is unthinkable stuff,' he said about the issues throughout the world and Europe. 'And you should be very nervous in America about it'.
Tell us: does Bono have a point? Should ISIS be fought with humour? Or does there need to be a tougher stance?
Comments