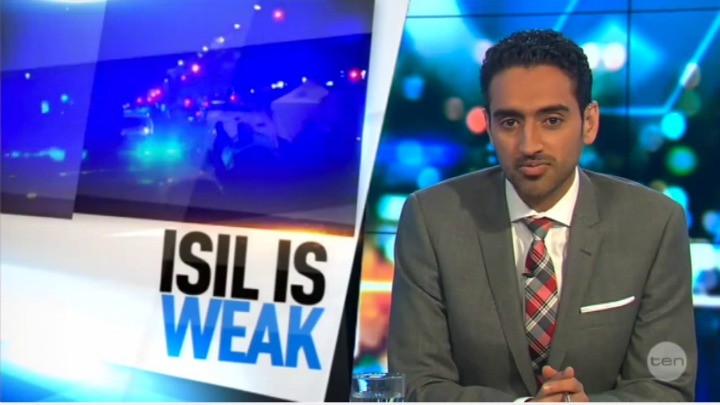 Waleed Aly, co-host of Channel 10's The Project, has taken out the coveted Gold Logie at the Australian Logie Awards on May 8 and in doing so has dedicated his win to everyone with an "unpronounceable name".
.@theprojecttv 's #WaleedAly delivers a powerful speech after winning the #GoldLogie https://t.co/Uzk5vaFWV0 pic.twitter.com/wC2HWYbFV8

— TEN Eyewitness News (@channeltennews) May 8, 2016
There was much debate around Waleed's nomination, and last night he spoke of the racism he's experienced within the television industry and how his Gold Logie win will go a long way towards breaking down barriers.
In acknowledging his fellow Gold Logie nominees (fellow host of The Project Carrie Bickmore, Essie Davis, Lee Lin Chin, Scott Cam and Grant Denyer) Waleed said, "If you step back and look at those pieces assembled it's a spectacular mosaic and we should celebrate that fact."
But it was his reference to one particular person in the Crown Palladium ballroom in Melbourne who had changed his name just to get a job — and who Waleed respected by maintaining that person's anonymity — that makes you question where the world is heading.
"There have been a lot of people in the past week or two who have made it clear to me that me being here right now really matters to them," Waleed said.
"It matters to them for a particular reason.
"That reason was brought home … not so long ago actually when someone in this room … came up to me, introduced themselves and said to me, 'I really hope you win. My name is Mustafa, but I can't use that name because I won't get a job'."
As social media came to life with congratulations, many quoted Waleed's opening lines of his speech, "Yes, this is happening".
Logie Hall of Fame inductee Noni Hazelhurst, who gave a spectacular speech of her own, was seen with tears in her eyes as Waleed spoke. But perhaps it was fellow Gold Logie nominee Lee Lin Chin, who usually fills her Twitter feed with hilarious sarcasm, who captured the moment best with her heartfelt post.
"As much as I would have love to won the Logie, I would never have been as articulate as him. Australian TV needs more of you," she wrote.
As much as I would have loved to won the Logie, I would have never been as articulate as him. Australian TV needs more of you.

— Lee Lin Chin (@LeeLinChinSBS) May 8, 2016
There were claims Waleed had 'broken the glass ceiling' by winning the award and others celebrated a restoration of faith in Australians, but there were also those who took exception to Waleed's dedication towards those with unpronounceable names.
Is Australian television lacking in diversity?
Comments