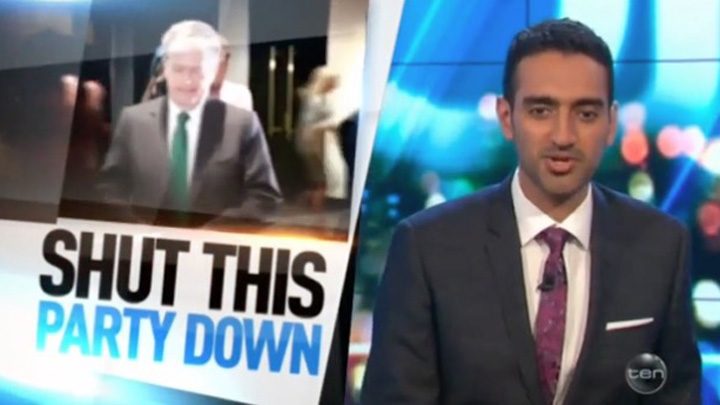 We've heard the words 'negative gearing' being thrown around for the last 15 years but only recently has it become such a big talking point in Australia. It's costing our children and grandchildren dearly, meaning the Australia dream of owning your own home is further and further away thanks to investors who take advantage of the scheme.
But The Project host Waleed Aly is not having a bar of it, and after saying earlier this week he has to rent in Melbourne due to soaring house prices, the acclaimed journalist launched into an attack on negative gearing and its impact on everyday Aussies.
In his Something We Should Talk About segment last night, Aly said, 'it's time to shut this party down' so houses can be less of an 'investment for the rich, and a bit more of a, you know, a home'.
'The cost of the average house is roughly 4.3 times household income,' the host added. Which is amazing considering so many more houses have two incomes now. So good luck if you're single.'
That's in comparison to 1960, when the average house cost roughly 1.6 times a household income.
'Economists agree, negative gearing pushes house prices up, [and] contributes to making our houses some of the most expensive in the world…' Aly said.
Aly referenced modelling from the Australian National University's Centre for Social Research and Methods, which called Labor's policy 'the biggest housing affordability policy the country has seen'.
It found Labor's proposal would 'slow the growth of house prices, increase new construction' and 'raise billions each year for the budget'.
Aly said Bill Shorten is "selling us common sense. Moderation. Tax reform. All really boring things, which is a problem"
"Bill's saying shut the party down, and we all know, no real Aussie likes a party pooper.
"That's until you realise that unless you're a baby boomer, or apparently an actual baby, you're not invited to this party.
"It's time we shut the party down,' he said.
Do you agree? Do you think negative gearing should be shown the door?
Comments