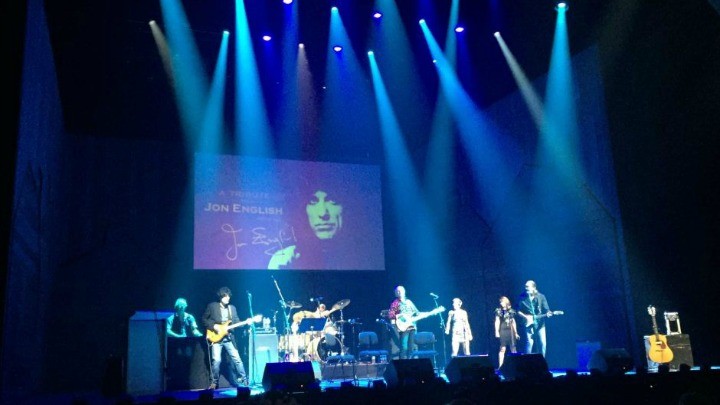 Australian entertainer Jon English has been remembered as a "titan" of the industry at a special memorial to honour the late singer.
Thousands of fans joined Jon's friends and family for a special concert to pay tribute to his remarkable career.
The 66-year-old passed away earlier this month following complications on what was supposed to be a routine operation.
Tears flowed at the event as Jon's children took to the stage to say a few words about their father.
#JonEnglish remembered as 'titan' of stage and film at #Sydney memorial service: https://t.co/7Q058mzzUo pic.twitter.com/ZudqNkJa7P

— The New Daily (@TheNewDailyAu) April 4, 2016
His daughter Josephine described him as a "very private person, with a very public job".
She spoke about the last weeks of his life being "filled with love and laughter" and wonderful memories.
"And we were able to take care of him the way that he had always taken care of us," she said wiping away tears.
"Jon English was great at so many, many things but to us his greatest role will always be 'father'."
Jon's good friend and fellow musician John Paul Young performed a special song for the star saying he was still coming to terms with the singer's death.
"Jon's death is still sinking in," he said.
"It makes you think about your own mortality."
John Paul Young singing #JonEnglish fav "The Handbags & Gladrags" #JonEnglishTribute pic.twitter.com/cXxNaSFQCR

— Anita Jacoby (@Anita_Jacoby) April 4, 2016
Those who had worked with him in the past described him as enthusiastic, loveable, and welcoming.
Fans who attended the event said they just wanted to pay tribute to the man who had been such a huge influence on their lives.
Sharon Fuller said she has been a fan of Jon's since she was a teenager and was even lucky enough to meet him once.
"I have had a crush on Jon English since I was 16," she told ABC.
"He once asked if I was stalking him. I said: 'Yes, since 1972'."
Are you a fan of Jon English? Did you grow up listening to his music?
Comments