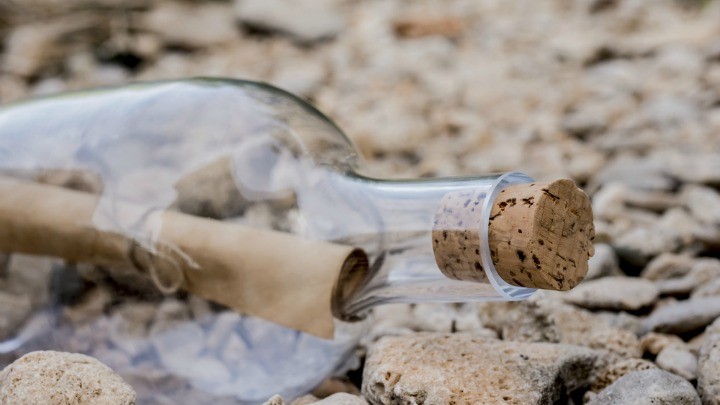 Between 1904 and 1906, British scientist George Parker Bidder released over 1,000 bottles to sea for research purposes. The message, written in English, German and Dutch, asked whoever finds it to smash the bottle and fill in some information on a card on where and how they found it. Out of the 1,020 sent out, some were never returned and scientists assumed they had been lost in the ocean forever. But when retired post office worker Marianne Winkler was on holiday the island of Amrum, Germany, she found one of them.
A 108-year-old message in a bottle has been confirmed as the world's oldest. https://t.co/Wvuv4aC0cW pic.twitter.com/MW0pCIaMv0

— PerthNow (@perthnow) April 20, 2016
According to The Independent, Mrs Winkler said: "It's always a joy when someone finds a message in a bottle on the beach.
"Where does it come from, who wrote it, and how long has it been travelling on the winds, waves and currents.
"My husband, Horst, carefully tried to get the message out of the bottle, but there was no chance, so we had to do as it said.
"We did as it asked, and the story took its course."
The couple filled out all the details, and sent the postcard back to its return address, the Marine Biological Association (MBA) in Plymouth, Devon, 500km away from where they found it.
The bottles were released by the scientists as part of a project to find out about deep sea currents, and were specially designed to float just above the sea bed. With the data from the bottles that were found, Bidder proved for the first time that the deep sea current flowed from east to west in the North Sea.
The century-old message in the bottle was confirmed by the Guiness World Record to be the oldest ever message of its kind to be discovered. In the postcard, Bidder also promised a shilling to the finder and an old English shilling (5p) was exactly what Mrs Winkler received.
Have you ever sent or found a message in a bottle before? What would you write in the letter if you sent one today?
Comments