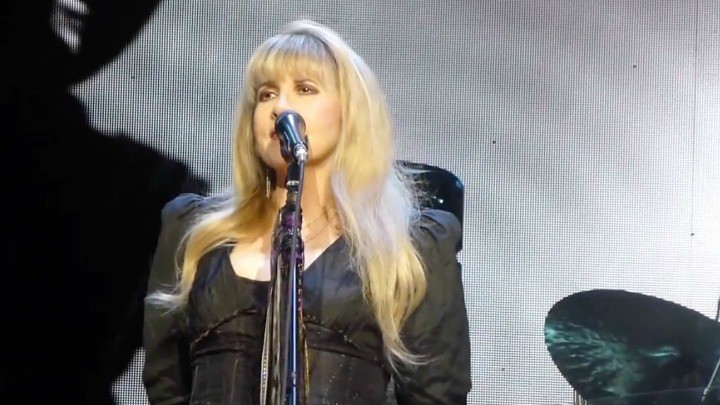 Do you know who the third highest paid female musical artist is in the world? Nestled in between Katy Perry, Taylor Swift and Lady Gaga is a name as much loved by Katy Perry fans as it is by Beatles fans: Fleetwood Mac.
If it's any surprise to you that Fleetwood Mac should hold a position in the top three female artists, then these clips of last night's concert in Brisbane will surely remind you that they are, quite simply, the greatest band still touring, with both Stevie Nicks and Christine McVie worth close to $60 million.
Last night's concert was apparently something of a revelation. With Stevie Nicks having vowed the band will be "doing this until we're 9000 vampire years old", the band started off on a dull note. But then the unthinkable happened. During the song Tusk, they completely messed up and guitarist Lindsey Buckhingham told the audience, "We're going to say we're not perfect, and we're going to start that one again, OK?"
From there on in, it was pure Fleetwood Mac magic.
One reviewer described it like this: "There was just no sparkle – at least not until the second the band hiccupped. When the group hit silence – a musical brick wall – something magic happened. It was like they'd been given a wake-up call, a nudge to say they were slightly off their game, an embarrassing kick in the guts."
Here are some of the highlights from the concert last night – what do you think? Have they still got it?
I liked a @YouTube video https://t.co/jJeYeWNt3N Fleetwood Mac – Gypsy – Brisbane, Australia 10 November 2015

— DJReckmaster (@dj_reckmaster) November 11, 2015
I <3 this band Fleetwood Mac – Big Love & Landslide – Brisbane, Australia 10 November 2015 https://t.co/kd5VGOQ3Iw via @YouTube

— blue rose (@1bluerose7) November 10, 2015
Fleetwood Mac will release the remastered edition of their 1979 album Tusk on December 4. Tusk was the  follow-up to the band's 1977's iconic Rumours and it sold four million copies.
Are you a fan of Fleetwood Mac? Which are your favourite songs? 
Comments