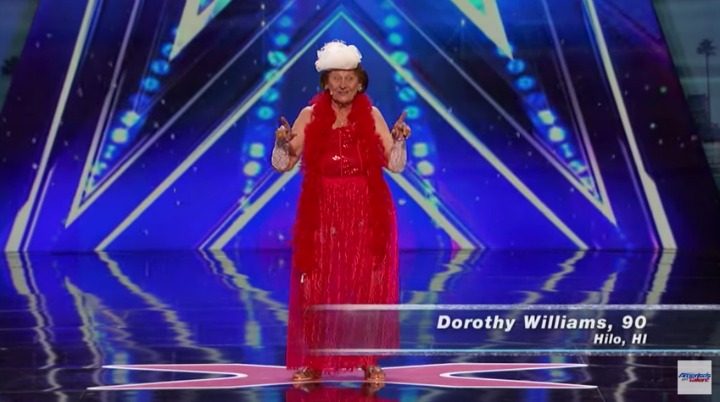 Television's harshest judge Simon Cowell was left with his mouth gaping wide open when 90-year-old Dorothy Williams started her performance on America's Got Talent overnight.
Dorothy took to the stage in a bright red outfit and wowed the judges and the audience with a strip tease!
She told the judges she was widowed and since she married later in life, had no children. She said she had always dreamt of being a star and having a moment on stage like this – and she sure didn't let it go to waste!
When the music started she launched into Bette Midler's 'Let Me Entertain You' and started to slowly remove layers of clothing.
When she got down to her nude-coloured singlet top she revealed tassels stuck to the front of it, which she proceeded to twirl around in circles.
Her performance had everyone on their feet clapping and cheering her on.
When she finished, the judges couldn't hold back their praise.
"Dorothy, you know what? I have to say, you're 90 years old. Good for you. Good for you!" Mel B said, while Heidi Klum gushed, "I absolutely love you. That was really, really special. You put me in a really good mood."
Simon also had kind words for the nonagenarian performer. "I find you fascinating, Dorothy. I do. And I do think there's an audience for you," he acknowledged before joking: "I think we need to work a little bit more on the tassels."
"They were working fine," the sharp-witted elder quipped back. "They got tired from practicing!"
Take a look at Dorothy's performance and tell us what you think! We couldn't help but share it with you – it put a huge smile on our faces and we hope it does the same to you!
Are you a fan of Dorothy? Would you like to have this much energy and fun when you're her age?
Comments