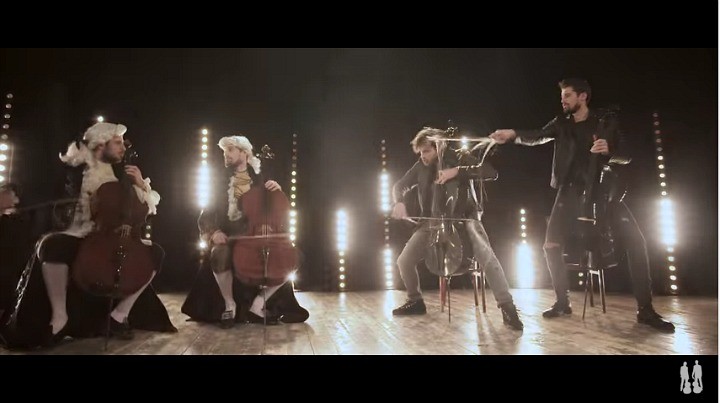 There have been some great musical mashups over the years, but this new spectacle takes the cake as one of the best we've ever seen.
Two cellist from Croatia have somehow managed to combined Beethoven's 5th Symphony and Led Zeppelin's 'Whole Lotta Love' and turn it into an head-banging mix and classical and rock.
Luka Sulic and Stjepan Hauser, known as 2CELLOS, have been performing together for a couple of years now and have even gained the respect of some of the biggest entertainers in the world.
Elton John has spoken about his love of the musicians and their incredible talent.
"Go and see them live, because it really is astonishing! I can't remember seeing anything as exciting as them since I saw Jimi Hendrix live back in the 60's," he said when asked about the duo.
In this new mashup, the pair are seen performing on stage in front of a large concert hall in clothes reminiscent of the 1700s. They start by playing Beethoven, before the scene quickly changes into a modern-day setting where they are dressed in leather jackets playing 'Whole Lotta Love'.
From there, slick camera work jumps back and forth between the two scenes before they are melded together and the boys smash out the two songs in one amazing mashup.
Take a look at the song below and tell us what you think!
Do you love this mashup? Do you prefer classical or rock music?
Comments