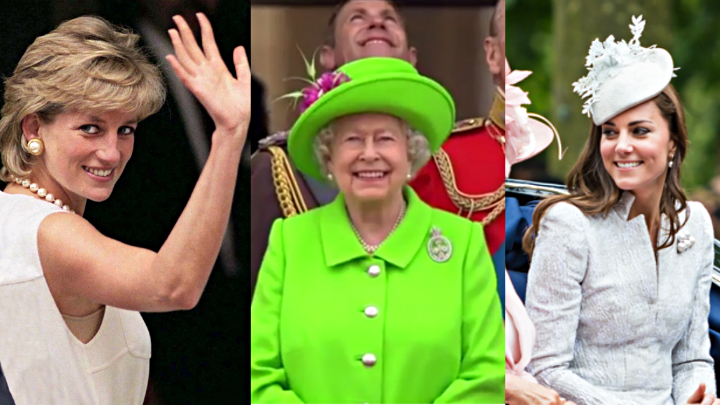 Princes, princesses, Earls and other family members joined the Queen on the balcony at Buckingham Palace while they watch the Grenadier Guards dressed in their best uniforms and bearskin hats march across the square to celebrate the monarch's birthday.
The monarch chose a vibrant green hat decorated with flowers and a coat with beautiful brooch for the happy celebration.
As we watch Queen Elizabeth celebrate her birthday with the royal family at the Trooping the Colour event today, it's hard to forget Princess Diana's own moments at the same event with her sons back in the 80s and 90s.
Some new photos of Her Majesty The Queen have been released alongside old pictures of Lady Diana. The new photos show Queen Elizabeth in one of the brightest outfits she has ever worn while also looking very happy on her birthday celebration march. More than 25 years ago, Princess Diana was also at the same event with her children.
In this photo below, Kate Middleton wears a light peach dress with a hat in a style and colour choice similar to Princess Diana's.
Kate Middleton, Prince William, Prince George and Princess Charlotte are photographed looking cheerful next to the Queen. This was Princess Charlotte's first public appearance, joined by her brother Prince George as they appeared on the balcony of Buckingham Palace to watch the acrobatic Red Arrow planes display.
Photographs of Princess Diana was also released and here she is captured sharing a moment with Prince Harry while Prince William watches the marches.
More old photographs of Princess Diana at the previous Trooping events…
Then and now: In 1989, Princess Diana attended the Trooping event with Prince Harry and Prince William in the carriage. Fast forward into the future, Prince Harry sits in the carriage with his stepmother Camilla and Prince William's wife, Kate.
It's heartwarming to see Prince William happy with his little own family, Kate fits in with the royals and Prince Harry has grown to be a much loved prince.
Unfortunately, Prince Harry was not really visible as he was standing behind Prince William most of the time, keeping a low profile.
Watch highlights of the celebration here…
What do you think of these photographs? Do you like the Queen's bright outfit?
Comments